SparkFun is no novice when it comes to educational tours. Last year we made several excursions around the country; here's the second half of our recap of the West Coast Tour in late 2012!
Favorited
Favorite
0
As our travels continued we headed for the Bay Area, catching a night in the mountains outside Santa Cruz. It was then on into San Francisco to hit our next round of workshops.
Our next appointment was at Noisebridge in the Mission District. We'd been talking to Mitch Altman, and he asked if we could do a surface-mount soldering workshop. So after securing a parking spot around the corner from Noisebridge, we rolled our road cases in and began setting up and marveling at the surroundings. Noisebridge is on the third floor of a building on Mission St. and is an impressive facility. The space is over 5000 square feet, and it's packed with electronics, classrooms, a machine shop, a kitchen, and a darkroom – about everything a maker could want. We toured with Mitch and soaked up the atmosphere. There are cast-off electronics from every era and tools everywhere. In every nook and cranny it seems that someone is working on a fantastic project. As Linz lead the workshop that night, we shared the room with the One Laptop Per Child group and a programming class in Java or Python. We had a full house and it was great to get to spend time with Mitch. His TV-B-gone is a personal favorite and he's a stalwart in the DIY community.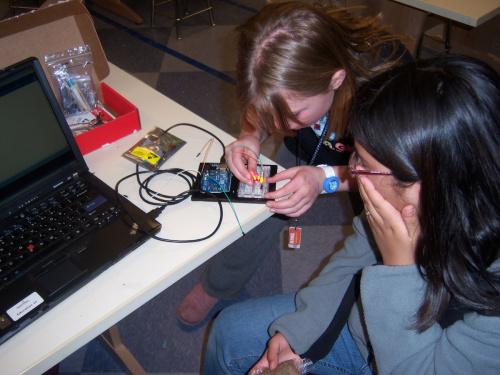 It works!
The next morning found us around the corner at The Sterne School. We've worked with Ed and his staff before and were excited to try some new class material with his students. We took about 40 middle- and high-school students through an array of squishy circuits, e-textiles and e-origami before an afternoon of programming with the Inventor's Kit and the Lilypad Development Board. We had lots of chances to explore different techniques for teaching concepts around the material, and we were impressed by how adaptable and fun the kids were. As we closed out the school day with the students at Sterne, we headed across the Bay Bridge to Berkeley. We had been invited to visit Pioneers in Engineering, a student-run organization in the UC Berkeley Engineering School. PiE does a really interesting robotics challenge for high-school students that uses hardware they design, build and support on campus. You could think of this as a $100 FIRST Robotics competition. We toured around with the PiE students and talked about the hardware for the upcoming year and how the event is run and supported. As well, we saw some of the workspace and student projects at UC-Berkeley. We were so impressed with the whole PiE program that we're headed back in late April to take part in the PiE Final Competition. We encourage all the NorCal folks to come down and check out the digs and see what this program is all about.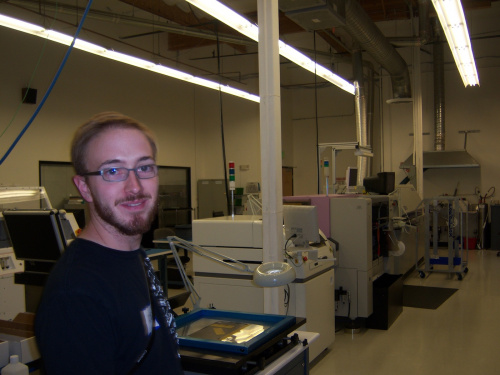 Rob can barely contain his glee at Parallax
The road called us back and we were on our way to our next stop. In late August, Ken and Jessica from Parallax had come out to SparkFun and done a great presentation on the Propeller chip, the Elev-8 Quadcoptor, and some of Parallax's other products. We got to talking about our plans for a West Coast tour, and they invited us to Parallax for a workshop with the LilyPad e-textile products we produce. I've long been a Parallax fan and customer and we were glad to accept the invitation. We headed up to Rocklin, CA, where Parallax has its headquarters. We got a tour of Parallax and its Production and Engineering facility from Jessica, and then we set up in their classroom to go over the e-textile material we'd prepared. We were excited to sit down with the mix of people from the community and Parallax staff to work together. I've spent a lot of time with "What's a Microcontroller?," so having Andy and Stephanie Lindsay in a class was a real treat. We got to meet some great people at Parallax, and they have an education event May 4th in Rocklin – it's sure to be a great time, so check it out.
We wrapped up the Parallax class and began our next leg of the trip. We'd booked the evening to see what Portland State University had going on, and we were about to be amazed yet again. Early on in the planning for the tour, Gerry Recktenwald from PSU had contacted us about a visit. He'd been using the SparkFun Inventor's Kit as a part of his curriculum and we wanted to check out what was going on. Gerry is part of the Maseeh College of Engineering and Computer Science, his department is Mechanical Engineering and his specialty is Fluid and Thermal Science. As part of a three-part Introduction to Engineering curriculum, the students get the Inventor's Kit instead of a text book. From there on out the students build and log data to get an experiential approach to problem solving and skill building that includes learning basic machining and design as it relates to engineering. At the end of the course, students build a water pump from scratch and then test it for efficiency. We were pretty bowled over – this approach is a dream come true for a shop rat like me. Gerry's students all showed up and talked about their experiences and how the material worked for them.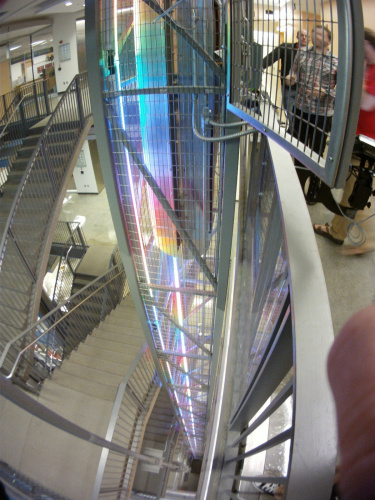 The Portland State microgravity drop tower
Next, Gerry turned us over to Andrew Wollman, an adjunct professor at PSU who's working on capillary action in microgravity environments. As it turns out, PSU has a five-story-tall microgravity drop tower in the main stairwell of the building. A researcher raises a platform to the top of the tower and then the whole tower lights up in the middle of the building and the "sled" in the tower drops, giving a two-second window of microgravity conditions. As it turns out, fluids and capillary action behave differently under microG conditions. On filmed experiments with high speed photography, the new behavior has revealed itself and has lead to a big leap in the way we look at fluid dynamics in space. In addition, PSU has direct control experiments aboard the the International Space Station. We were ushered into a room full of video monitors and computers with live views from ISS. PSU in combination with the University of Bremen, Germany, is monitoring the experiment, which looks at bubble formation in fluids in microG settings. When we had finished in the control room, Gerry and Drew took us downstairs to PSU's prototyping lab. The lab has an array of tools for circuit-board production, pick-and-place operations, and a full complement of tools to flush out the rapid-prototyping environment. One of our favorites was a vending machine set up to dispense resistors and capacitors, as well as other commonly used components in the EE/CS departments. It's simple, but we love the DIY nature of having consumable parts available to the student body 24 hours a day.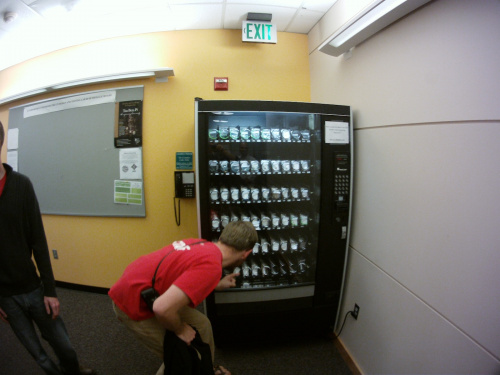 Fresh out of Combos
The next day was another in a line of mind-blowing encounters with SparkFun's people. We'd arranged to visit Derek Runberg in Hillsdale, a little west of metro PDX. Derek is teaching Arduino and a number of other emerging tech topics to middle schoolers in Hillsboro. We talked a bit with Derek about what we could do with his students that was a good fit - not too hard, but engaging and relevant to the work he'd already done in his classroom. We settled on a day with the Processing language and decided to run six sessions over the course of a school day with Derek's classes. The Processing material was a huge hit with the kids - every class was so engaged we had to kick them out at the end of the period. As we look back on it, we think that by removing the set of variables that go with wiring a circuit correctly, we'd let the kids concentrate on the programming alone. We think they were less frustrated by the level of difficulty of the material. The day sailed by and Rob and I really enjoyed our time with the students.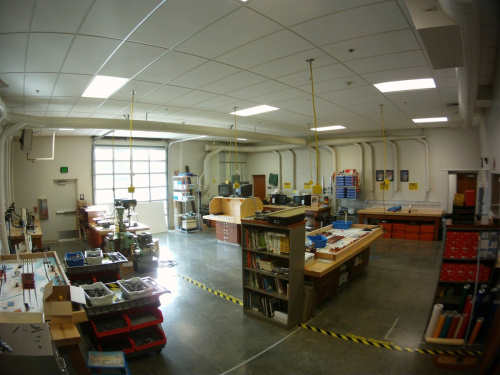 Middle School workshop in Hillsboro
The next morning we were at it again with a teacher training with Hillsboro students and teachers combined. We did an introduction to Arduino and had the good fortune to meet some of Derek's colleagues and their students. We often talk about our place as part of a learning community and we really feel like this new model for learning is great for emergent technology. We had students and teachers learning side by side, and the day was memorable for everyone there. In the days and weeks afterward, Derek put up a website on the work started in Hillsboro. We've started sending educators there as a reference to Processing and its place in the classroom. We've had a lot of great response to Derek's work – give him a shout if you use the material or have something to add. The next night, as the twilight crept in, we headed towards our final stop, Bellevue, WA.
We drove through the persistent Northwest rain and pulled into Bellevue late. We sat down and talked with our hosts for a little while before settling into the RV for a night's rest. The next morning found us at the Open Window School with our friend Adrienne and her Technology class. Adrienne had requested that we come and help her get a jump start on the Arduino hardware she had for her classroom and we were glad to help out. We took her group of students through the basics of programming with Arduino and they took off. We get to see a lot of classrooms where the initial steps to getting the hardware running are the most challenging part of the process. Open Window School was a pretty good case study, where we start out a little slow and the students take off about an hour into things. We blazed through the concepts with Adrienne's class as they worked very well with the material. In the mid-afternoon we packed up the RV one final time and headed for Boulder.
We made pretty good time on the way home and rolled out of the RV in time to start work on the National Tour Kickstarter that was about to launch. This trip provided us with valuable information about travelling and teaching with SparkFun's customers and about how we can work with educators to provide classroom resources. We can't wait to get back on the road later this year, and we hope to see you out there!