Join us at the reservoir or on the livestream!
Favorited
Favorite
0

The first stream crashed, please use this link for the new stream.
The day is finally here - AVC 2014! Starting today, June 21st, 2014, at 9 a.m. at the Boulder Reservoir, teams from around the world will be competing in the greatest autonomous vehicle race ever (or so we've been told).
If you can't join us at the reservoir, you can watch the race as it happens on our livestream. We've got four dedicated cameras on the courses, additional cameras in the pits, roving interviews, overhead coverage from one (possibly two) gymbal-equipped quadcopters and a realtime scoreboard, so you won't miss a second of the action. Check it out here:
Of course, you are still welcome to join us at the reservoir. And why not? It's a beautiful day, the birds are singing, and the quadcopters are zipping through the breeze. The reservoir is easy to find and we've got tons going on, including live demos from some of our favorite companies, food and entertainment. Plus the reservoir itself has a nice beach and is a great place to hang out on a summer day.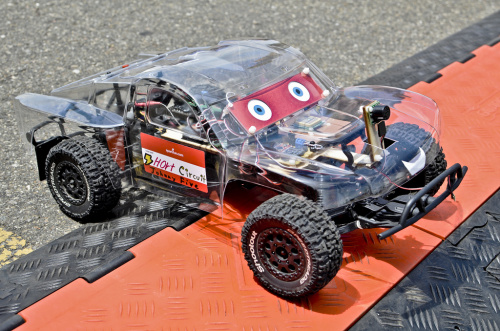 If you want to join the conversation on Twitter, we'll be using #sparkfunavc throughout the day!
Enjoy and may the best bot win!
You can see the full list of scores here. Thanks for a wonderful day - we hope you had as much fun as we did!