We have a pretty good assortment of products this week. We're getting more retail products to our retailers, some new shields, LEDs (of course!), and well... I won't spoil the fun.
Yes, I really do have ESP, but only for when Dave gets hurt. I don't consider it a gift. Let's look at the products for this week.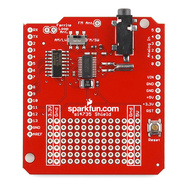 Remember those old crystal radio kits when you were a kid (or from links on the internet)? Well, our new AM/FM receiver shield uses the Si4735 IC to turn your Arduino into a fully functional modern radio. You can receive AM and FM, as well as RDS and RBDS information. Using simple serial commands you can change volume, mute, scan radio stations, and much more! The reception is pretty impressive and if you need an extra boost, you can simply add a length of wire.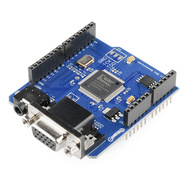 Our next product started out as a successful Kicksarter project. The Gameduino is an Arduino shield that turns your Arduino into a game console. The Gameduino features VGA output, 12-bit audio (through a 3.5mm audio jack) and enough example code to get you up and running quickly. Check out this video to see more of what it can do.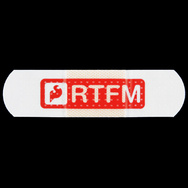 You may be asking yourself 'self, are those really RTFM bandages?'. Yes, yes they are. You see, we teach a lot of workshops and do a lot of our own projects. It doesn't always go perfectly smooth and sometimes there are some minor cuts and severed limbs. Nothing serves as a better reminder to take a little extra precaution than wrapping your wound in a SparkFun RTFM adhesive bandage. Yes, these are sterile bandages. Yes, they are real. And yes, they're awesome.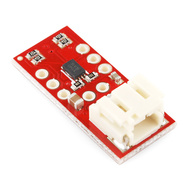 We have several products aimed at making LiPo batteries easier to use in projects. We've got the Power Cell, LiPower, and our basic chargers. But what if you just want to check how much power is left in your battery? Now we have the LiPo Fuel Gauge which can tell you how much power you have with the help of I2C. If you plan on using batteries in your next project and battery level is critical, you might want to check out the LiPo Fuel Gauge.
It seems that almost every week we have some new product relating to LEDs. This week is no exception. People seem to really like our super bright 10mm LEDs, but sometimes you don't need all that brightness, but still want a larger LED. These new diffuse 10mm LEDs aren't nearly as blindingly bright and have a softer diffuse glow to them. In addition to the red and blue seen above, we also have them in green and yellow.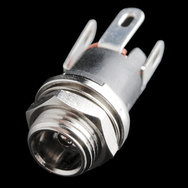 We have a lot of varieties of DC barrel jacks, but didn't carry a good panel mount jack. This 2.1mm center-positive DC barrel jack has a nut and washer so you can easily mount it to a flat surface (with the aid of an 8mm hole). Use one of these to give your next project a finished look. I used one of these on the NCWP that I built for my wife.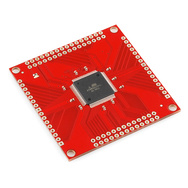 Here at SparkFun, we never make mistakes. Oh, I kid... We make mistakes all the time just like anyone else. This time we assembled our XMega100 Breakout Boards with a bad PCB. We didn't notice it until after they were built. Personally, I think they look kinda neat. The silkscreen is mirrored on the underneath side. It looks like you're looking through the board. The board tests fine and the labels are still correct, they are just mirrored and on the wrong side. If you know what you're doing and want to save a couple of bucks, check out the XMega100 Breakout - Kriss Kross edition.
In addition to all the fine products above, we also released a few new retail products this week. That means that your local retailers might soon have new stock of some of these products. But don't worry, you can get them all here online and most of them are products we've already been carrying. This week we added the Arduino Header Kit, Clear Breadboard, TTL Laser, ITG-3200 Breakout, USB Mini Cable, USB A-B Cable, Breadboard Arduino Kit, and the Thumb Joystick Kit.
That's all I have to talk about this week. We have quite a wide range of products this week. Of course, I'll be back next week with even more new products to talk about. Thanks for reading.