We have some some new cool tools as well as some other goodies this week.
Favorited
Favorite
0
If you aren't too busy playing Skyrim, we've got some new products to talk about. We have some new tools and a couple other exciting products, so let's see what we have.
Gregg is still out of town so Dave and I just shot a quick video. He'll be back next week so we can do a more in-depth video then.
A good multimeter is an essential tool to have for anyone interested in electronics. This new auto-ranging meter might be worth a look if you are in the market for a new one or don't already have one. It's auto-ranging which means you don't have to select the range you need, it will automatically adjust and display the right range. In addition, it comes with a temperature probe so you can measure temperature in either Celsius or Fahrenheit. If that wasn't already enough, it even has a USB port which allows you to connect the unit to your computer and log, save, and recall data.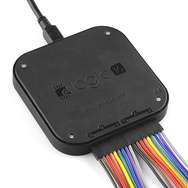 Just a few days ago Nathan was talking about his laser tape measure hacking challenge. In his tutorial he used the Salae Logic Analyzer to find the serial pins on the laser tape measure. It's a great unit, but what if you need more channels or a faster sampling rate? Well, the new Logic16 should get the job done for you. It has 16 channels and can sample up to 100MHz when using 2 channels. It can even do 12.5MHz on all 16 channels.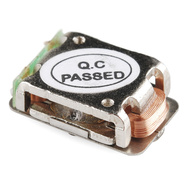 We had a lot of fun with the large surface transducers we started carrying awhile back. These little guys are the same concept, but a bit smaller. They're roughly the size of a quarter and can handle about 1-2W of power. They don't transmit through materials as well as the larger ones, but with lighter materials like cardboard they work quite well and can get pretty loud.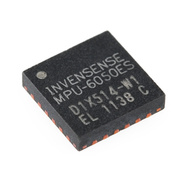 It might not look like much, but the IC above is pretty exciting. It combines a 3-axis gyroscope with a 3-axis accelerometer in a 4mm square IC. In addition, the MPU-6050 also has an onboard Digital Motion Processor which allows it to integrate the output from an external magnetometer for 9 degrees of awesome. We are in the process of making a breakout board. Sorry, no ETA, but feel free to make your own!
A couple of weeks ago we released the GPS-2106. We now have the interface cable and connector in stock so you can start playing with the unit. You will still need to create a footprint for the SMD connector however. We will be making a breakout board, but now you don't need to wait, you can make your own.
That's all we have for this week. We already have new stuff showing up for next week so be sure to check back next Friday. Thanks for reading and have a great weekend!