Another big week for new products. Check out all the connectors, plugs, and tools we have for this week.
Favorited
Favorite
0
It's yet again the closing of another week and that can mean only one thing - new products. We have a big selection this week, so let's check out the video and see what everything looks like.
Check out the vimeo version here. We are really excited to see the new packaging for the tool kits. They look sharp and it's a welcome change from the previous version. We got rid of a few things that no one was using, made them cheaper, and made the packaging nicer.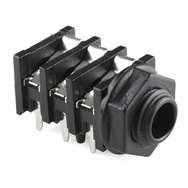 Last week we had a lot of different connectors and plugs, and this week we have even more to fill in the gaps. First up is this 1/4" audio jack. It's right angle, had a nut and washer, and you can use it to detect if something's plugged in or not. This version is made to mount to a PCB, but you could easily just solder wires directly to the pins and panel mount it.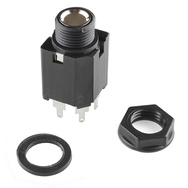 If you need a vertical version of the jack above, you're in luck! This jack accepts 1/4" audio plugs an also comes with a washer and nut. It's made to mount vertically from a PCB, but as with the other one, you can use it directly with wires.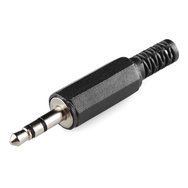 Stereo headphone jacks are very common. This 3.5mm (1/8") audio plug has a plastic shroud that unscrews for making a professional cable. With 3 pins (normally ground, left and right audio), you can use it for sensors, switches, or audio of course.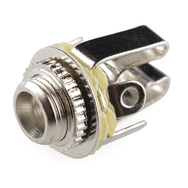 Need an audio jack for that 1/8" plug? This basic 1/8" audio jack accepts stereo audio cables (and jacks) and has easy solder terminals and a mounting nut.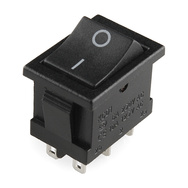 This switch rocks (sorry - I had to)! This DPDT rectangular rocker switch is a great size and works well for an on/off switch or whatever else you can dream up. It's roughly the same size as our other rectangular rocker, but just a bit wider.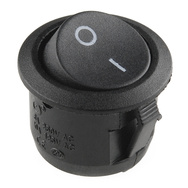 Cutting a rectangular hole with a drill is pretty difficult. That's why we have this round rocker switch. If you are mounting the switch and don't feel like hacking a rectangular hole, just a drill bit and a round rocker instead. It's only SPST, but what else do you need for a basic power switch?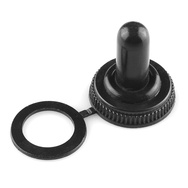 Toggle switches are cool, but susceptible to dirt and water. This handy rubber boot screws onto most toggle switches and forms a waterproof barrier for your project.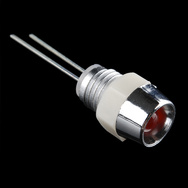 The product trend this week seems to be panel-mount components. Now that you have a panel mount rocker, panel mount toggle and audio jack, why not have clean panel-mounted LEDs? This 5mm LED holder accepts a standard 5mm LED and allows you to screw it into a panel, making for a nicely finished indicator light.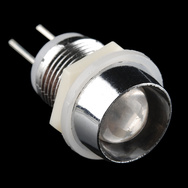 Need to REALLY indicate something? Like serious mechanical breakdown, wormhole collapse, or mechanical failure in the baby sloth production module? These 10mm LED holders are the same as above, but accommodate bigger (and brighter) 10mm LEDs.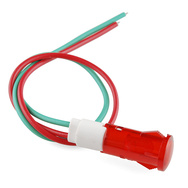 If you don't want to mess with buying an LED, buying a holder, and then putting it all together, this LED indicator light might be perfect for you. It's an LED, holder, and wires all in one. Cut a hole, snap it in, and connect the wires and now you have a red indicator light for a dash, panel, or middle of your wall (why not?).
This week we also have new tool kits! The Intermediate Tool Kit has all the basics you need for electronicing. It includes soldering iron, some cutters, multimeter, and a bunch more. It now comes in a fancy SparkFun box! If you're just getting started and want to make sure you have all you need, check out the Intermediate Tool Kit.
If you want a beefier soldering iron and will be doing a lot of electronics work, you might want to check out the Deluxe Tool Kit. It includes our 50W SparkFun Soldering Iron, all the goodies in the Intermediate Kit, as well as a few extras. Check out the video above for a full explaintion of both kits. On a side note, if you're just starting out and don't want to spend a lot of money, check out the Beginner Tool Kit. It's got the bare bones necessary to get you going.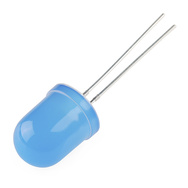 Last week we got a bunch of new 10mm LEDs. This blue one showed up a little late to the party. It has a blue-tinted plastic body and is big and bright.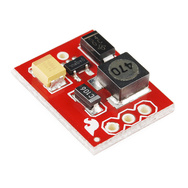 The NCP1402 is a great board for taking 1-3 volts and magically (kinda) turning them into a solid 3.3V output. Use it with a single AA to power your next 3.3V Arduino. It's a little smaller than a quarter, which is awesome for embedding.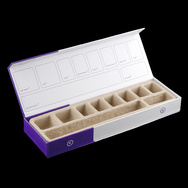 We have some leftover boxes from when we built the first version of the Littlebits kits. Since they aren't being built by us anymore, we don't have a need for the boxes. They are a good size, have magnetic lid, and a little tray organizer inside. They could be used as a project enclosure or parts organizer.
Phew, that was a long one. Thanks for reading (or skimming) and we'll see you again next week with another video, another post, and more new products.