Summer is heating up and so are our new products for this week. Check out all the new goods!
Favorited
Favorite
0
Hello everyone, and welcome again to another round of new products. We've got a few things and a demonstration, so let's check out the video first.

Vimeo link here!
It is a bit unnerving trying to short out the heating pads. But ultimately, we wanted to see what happened when you applied too much power. Thankfully, they seem pretty tolerant of over-voltage.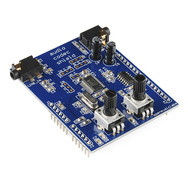 If you want to play around with the Wolfson WM8731 IC, the Codec Shield is just what you need. It stacks on an Arduino or Maple and has libraries to get you going. It's even got input and output jacks, potentiometers for modulating code, and stereo 24-bit DACs.
Generally speaking, heat is the enemy of electronics. But sometimes you actually want to generate heat, and these heating pads are perfect for that. Use these to incubate a solution to encourage bacteria growth, heat up the electronics in a high-altitude balloon project, or make self-warming mittens. They come in two sizes: 5x15cm or 5x10cm. Each can run on 3.3-5V, and draws around 0.7A. You can power them with more, but you might want to watch the video above for our findings.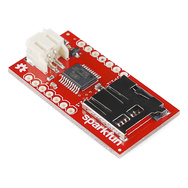 If you want to embed audio in your next project, the Audio-Sound Breakout will be a simple way to do it. Encode your files, toss them on a microSD card and send the unit commands; it's that easy.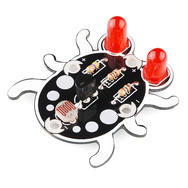 The WeevilEye is a beginner level soldering kit. It only uses a few components and doesn't require programming, so it's great for people just starting out with soldering. Once put together, it reacts to light by flashing its red LED eyes.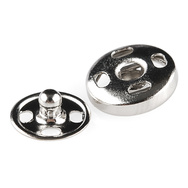 Remember a couple weeks back when we talked about the LilyPad SimpleSnap and the matching ProtoBoard? Well, we now have packs of snaps that work with both of these boards. They come in bags of 30 (15 male, 15 female) and can easily be sewn into fabric.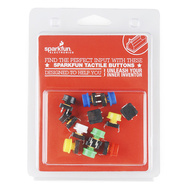 We have a lot of new retail products this week. We've been trying to fill out the retail category with some useful parts that should be helpful in most projects. First up, we have the tactile button assortment. This set of 12 buttons has interchangeable caps and comes in pairs of six different colors. They are the same footprint as the standard 12mm momentary push buttons.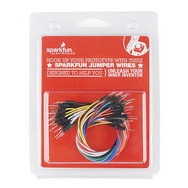 Additionally, we've added jumper wires to the retail packaging lineup since we can't seem to have enough on hand for our own projects. We always seem to need more. This is the same 30 pack that comes in the SparkFun Inventor's Kit.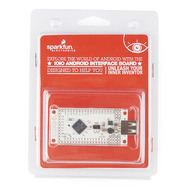 We also have the popular IOIO board for Android ready to hit retail shelves. If you're a tinkerer and have an Android phone, this board might be worth checking out.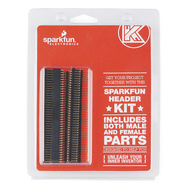 Another thing that we can't seem to have enough of is headers. This simple header kit contains a couple 40-pin straight headers, a couple 40-pin right angle headers and four female 40-pin strips. Get some of these kits for all the breakouts you have!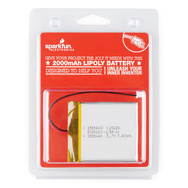 Lastly, we have the 2000mAh LiPo battery packaged up retail-style. It's a popular size and is a good choice if you want to power an Arduino or other board.
Well, that's it for this week. Thanks for reading and watching and we'll of course be back again next week with more goodies.