Join us as we take an infographic-y look back at SparkFun's past year, and welcome in a new one.
Favorited
Favorite
0
Well, here we are at the end of another eventful year at SparkFun!
2012 was an exciting one for us - we traveled all over the country, made a whole heap of new friends, survived the apocalypse, taught some folks about electronics and learned a little bit about a lot of important things. We have nothing but high hopes and enthusiasm for the coming year and are, as always, so grateful to greet a new year as part of such a strong community - thank you for another wonderful year of support! We wish you all a 2013 filled with fun, inspiration, and just enough safety to give you some great stories to usher in 2014 with.
SparkFun will be closed tomorrow (January 1) as we all recover from an excess of gratitude, and we'll resume operations on Wednesday the second. But for now, let's take a look back at some highlights from 2012 with one o' them fancy infographics (thanks to Pamela, one of our graphic designers).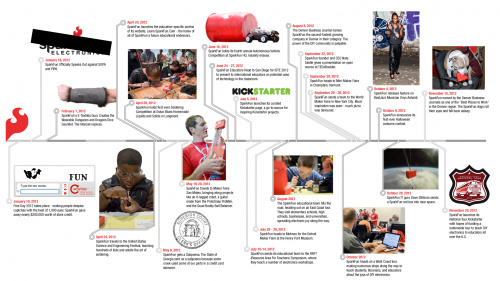 See you in 2013!