Our friend Stephanie Segall of Imagine Our Life shows us her recipe for a homemade LED robot costume.
Favorited
Favorite
0
Last fall we caught wind of graphic designer, mom and e-textiles enthusiast Stephanie Segall's quiet book projects. She took the time to tell us about the projects and tutorials on her site, Imagine Our Life, and a few weeks ago when we saw the amazing finished product for the World's Best Robot Costume for her son, we knew we had to know more.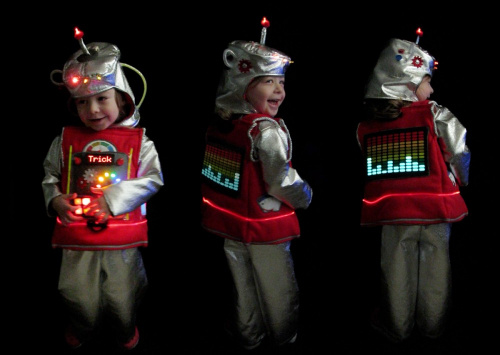 All photos courtesy of Imagine Our Life
How did you come up with the idea for the LED robot costume?
When my 3-year-old told me he wanted to be a robot for Halloween, I think I was more excited than he was! My very first thought was that it HAD to light up! Growing up surrounded by classic science fiction, my idea of the perfect robot includes glowing buttons, colorful gauges and other retro-style elements. Having worked with LEDs before, I knew I could create a custom costume for Jax that fit my vision.
How long did it take to complete the costume?
It took me about two weeks, working in the evenings and on weekends, to finish the costume. It took some trial and error to get one of the LEDs circuits working, but I learned a lot.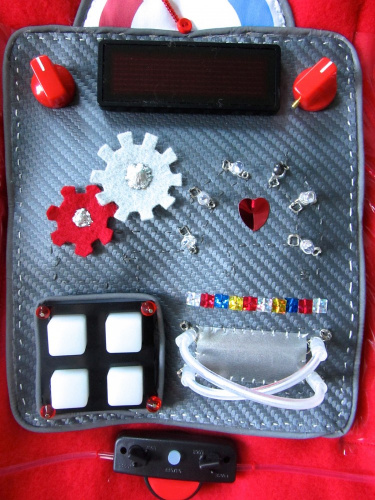 Which SparkFun parts did you use, and what do they do?
When I saw SparkFun's button pads and tiny red dials, I had them in my shopping cart before I even had a chance to think through how to sew them on! They fit my concept perfectly. I also used SparkFun's slow change RGB LEDs, battery holders and white core light rope. Simply browsing the SparkFun catalog was enough it inspire a lot of ideas.
How does this project compare to your quiet books and other projects involving electronics?
This costume was the first e-textile project in which I used standard LEDs. I really loved the look of the larger domed lights, so I chose them over ready-to-sew LEDs. Because of that, I had to learn how the different colors of LEDs interacted and run my circuits accordingly.
With the exception of the battery holders and conductive thread, none of the supplies I used were intended for sewing. I had to get creative in how I attached items like the little dials and the light rope.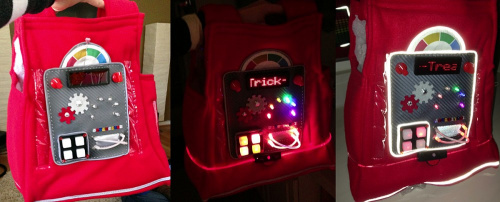 What future or similar projects do you have planned?
Jax is old enough now to choose his own costume each year, but now that I'm hooked on e-textiles, I'll be sure to include them whenever I can! I'm hoping to eventually sew some educational materials to use in our homeschooling science studies to help Jax learn about electricity. Because he is in preschool, a set of fabric parts that can snap together to form a circuit would be perfect for him.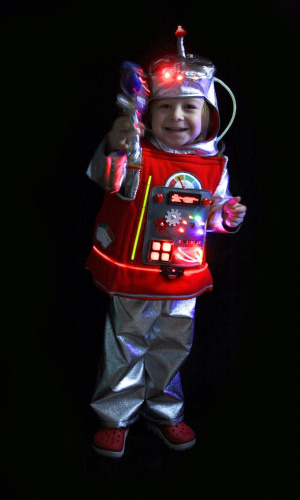 Stephanie's site offers a full, detailed tutorial on how to make your own LED robot costume, as well as many of her other electronics projects! Thanks Stephanie - great work and we can't wait to see what you come up with next!