Using the SparkFun Geiger Counter to measure radiation levels in Japan.
Favorited
Favorite
0
These past few weeks, the world's eyes have been closely monitoring the situation in Japan. After a devastating earthquake and tsunami, the country now faces issues from a damaged nuclear power plant. Just this past week actually, radiation particles reached Colorado (though in very, very miniscule amounts). The radiation here isn't harmful at its current levels, but it certainly makes this tragedy hit a little closer to home. We at SparkFun have many ties to Japan and are keeping everyone there in our thoughts.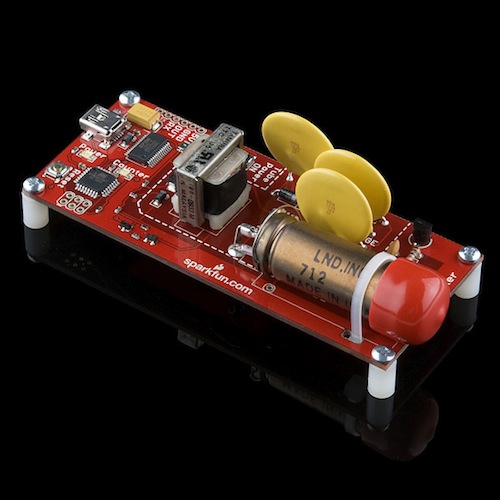 The SparkFun Geiger counter.
Shigeru Kobayashi, he of Arduino fame and a SparkFun customer, lives in Japan and has experienced the tragedy first-hand. Shigeru wanted a way that he could monitor the radiation levels at his home and compare them to other regions. So he bought a SparkFun Geiger counter and mated it to an Arduino board and a wireless LAN converter. He then interfaced the counter with Pachube.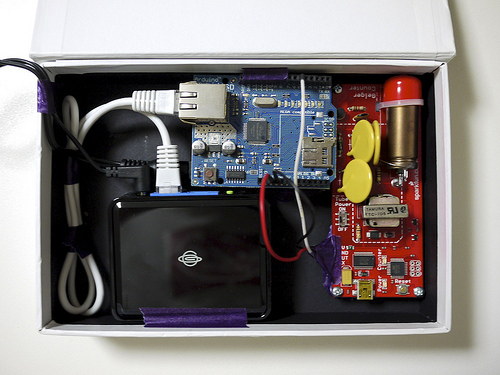 Shigeru's project in its enclosure.
The results are impressive and give him an excellent way to monitor the radiation his family experiences at their home in Japan. Here is an article he wrote detailing how he used the counter. It is a Google translation from Japanese, so be forewarned that some parts of it might seem a little fuzzy. The general explanation, however, is excellent. Great work, Shigeru - and stay safe!
One final note, if you are interested in the SparkFun Geiger counter, they are currently out of stock. We are working on building more, but as you can imagine, our supplier is under heavy demand right now. We will get more in stock as soon as we can.