Check out this project to build your very own thermographic camera.
Favorited
Favorite
0
Well, we are back from Maker Faire and (at least partially) recovered. We hope that if you were able to make it you swung by our booth and joined us for a soldering workshop (or three). We had an amazing time hanging out with some of our customers, exploring NYC, and checking out all the cool projects at Maker Faire. We'll have a full recap with photos and videos coming up in the next couple weeks. In the meantime, let's talk about a cool project - the Cheap Thermocam.
The Cheap Thermocam is a home-built thermographic camera that uses an Arduino UNO, a large and a medium servo, a laser card module, and a few other parts to create a DIY camera that is capable of taking themographic images. As you can see in the video above, it works very well for a thermographic camera that costs right around $150.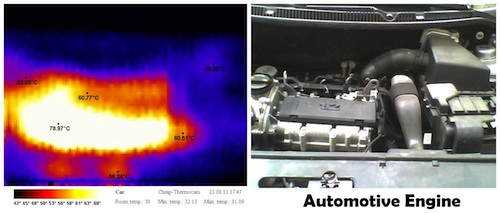 Right now the developer is working on a 3D model for a custom case from Ponoko so the project can be enclosed in a nice, finished design. Best off, the developer's website has detailed instructions, code and information to build your very own thermocam. Great work!