Nick covers for Rob as we wave 'hello' to some new products!
Favorited
Favorite
0
Hey everyone, Rob's out for the week so I'll be supplying the new product news this week. Hopefully there's something in this batch that will catch your interest!

Vimeo version found here.
That was the unhappiest Arduino... I hope I didn't make up that stuff about using a function generator as a debug tool, I'm no expert and sometimes those studio lights make you say crazy things. Also, I said millisecond resolution in respect to the servo test mode but that would obviously be pretty bad: it's micro-second resolution.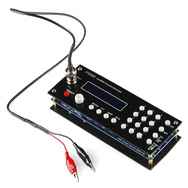 This is an awesome kit, though. Not only is it fun and easy to put together, since all of the surface mount soldering has already been done, but when you have it put-together it's a really useful tool for your workbench. This function generator can create 7 different types of continuous waveform: Sine, Square, Triangle, Step (up and down) and Ramp (up and down). Not only that, but it can generate servo control and test signals as well. The 15VDC power supply allows the generator to throw waveforms with a maximum peak-to-peak amplitude of 10 Volts with an offset from -5 to +5 Volts. Whether you're shopping for an entry-level function generator or just looking to build your tool collection, definitely check out this kit.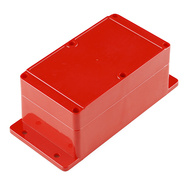 We have yet another new enclosure this week, adding to our growing collection. Too bad we didn't get to run this one over with a truck. It's tough though! This flanged plastic enclosure has a rubber gasket built in to seal against dust and moisture and it's 3mm thick so it's not a push-over for wear and tear. Also, it's SparkFun Red, which we all know improves performance.*
*probably doesn't improve performance... but red sports cars
do seem
to go pretty fast...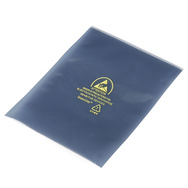 Electrostatic discharge is the invisible enemy of all electronic devices. Keep your parts and pieces safe from ESD by storing them in these static shielding bags! These 4" x 6" bags are spacious enough that you could probably fit a couple of Arduinos (Arduini?) in there if you had to. Also they're heat-sealable, so if you have access to a heat-sealing machine then go for it.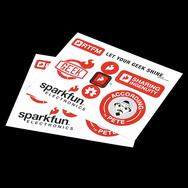 What can I say, our designers here at SparkFun have definitely put in some work making great graphics for everything from the website to the videos and even the t-shirts! It was about time we updated the sticker sheets with some of our cool new artwork. The new sticker sheet includes the According to Pete logo, the flaming F5 key and the OSHW logo, as well as old favorites like "RTFM". And don't forget, this is yet another chance to put Pete's face on something you own!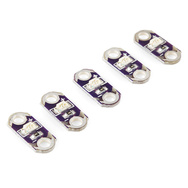 We've added another color to our line-up of LilyPad LED boards, this time it's purple! I personally find it ironic that it's taken so long to get a purple LED when every board in the line is purple. Oh well, things are just funny that way. Just like any other LilyPad LED, you can sew these into your shirt, hat, couch, tent... whatever, to add that much needed 'flash' of Tyrian hue.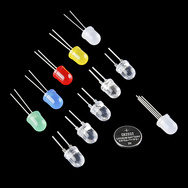 Moar LEDs! Life can be a mixed bag, but sometimes that's okay: The 10mm LED mixed bag is a great way to sample each of our 10mm LED colors, including the RGB and the super brights! It's also a good deal on 10mm LEDs if you're building something that just needs "blinky stuff" of every color. It can be hard (read: impossible) to tell the super bright LEDs apart without lighting them up so we've also included a 20mm coin cell battery for your convenience.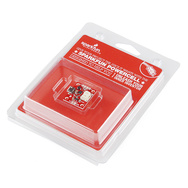 The Power Cell is an awesome board for getting Li-Po batteries into your 5V projects and now it comes in spiffy retail packaging for our distributors who need it. So that's pretty cool.
Well there you have it, another batch of great stuff added to our ever-growing catalog. This is getting out of hand! Rob will be back next week so be sure to check back for even more new products.