The West Coast Tour is upon us, and it's not too late to sign up!
Favorited
Favorite
0
The time has come and SparkFun's Department of Education is back on the road. Linz Craig and Jim Lindblom will be on the east coast through October 16th, and they'll be doing workshops at Artist's Asylum, MIT and Tufts. Linz will also be at the upcoming Maker Faire in Somerville, MA! There's a lot to choose from and we're thrilled to see more and more Maker activity out east.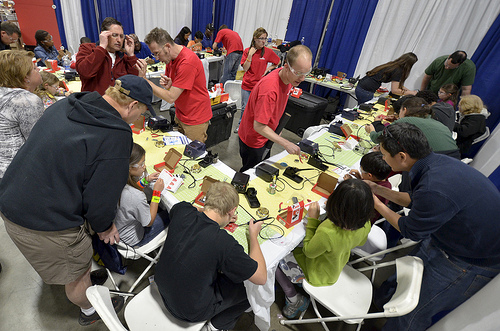 I'll be leaving Colorado in an RV on Friday, headed west. Monday will find us in Los Angeles working with Patricia at
Handmade Penguin
. Monday's sessions are built around the
LilyPad Arduino Development board
, and we'll be covering installing and programming.
On Tuesday, October 16, we'll be teaming with Patricia for an all day Intro to Arduino class with the SparkFun Inventor's Kit. This class is targeted at educators looking to introduce Arduino into their respective environments. All the workshops are at the Long Beach Sea Scout Base, located at 5875 Appian Way, Long Beach, CA.
From Long Beach we'll be moving up to Paul Revere Middle School for two nights of fun with the
Exploratory
. Our first night (Wednesday, October 17th) is dedicated to Squishy Circuits and LilyPad, as well as craft techniques with origami and embedding electronics into items like greeting cards and holiday ornaments. The following evening will be dedicated to the Scratch programming environment and using it with the PicoBoard to create interactive animation and gaming. I'm really excited about this one -- Linz has been working on some great material and we're itching to get it into the hands of some of our younger Makers. If you're interested, there are still a couple spots open on these nights and you can sign up here.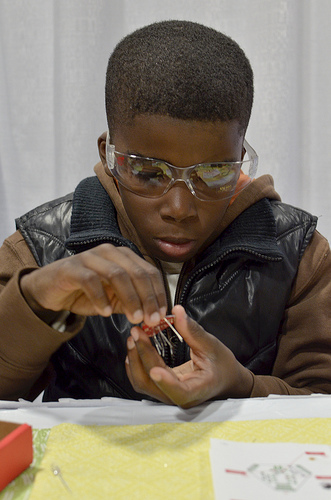 We also still have some room in our workshop at
Parallax
on October 24. We'll be working with the LilyPad development board, and you gan grab a spot on the events section at
learn.sparkfun.com
. Parallax is awesome, and we're looking forward to partnering with Ken, Jessica and all the great people at the Rocklin, CA facility. From Rocklin we head to Portland, and we've got an Intro to Arduino class with a local school on Saturday, October 27. This workshop is open to the public and we'll be glad to get you details; just email us at
education@sparkfun.com
.
We'll be sending briefings through our social media channels, and of course we'll follow up with a full post on the goings-on. Hope to see you on the road!