What's your preference for contacting us?
Other stuff you might like to know about:
---
Phone
Phone: 303-284-0979 - (Monday through Friday, 9am to 12pm and 1pm to 5pm, Mountain Time)
Fax: Who faxes anymore? But if you need it, our fax line is: 303-443-0048
---
Email
Order/Shipment Questions: Contact customerservice@sparkfun.com.
Technical Questions: Check out our Technical Assistance page.
Website Issues: Please email website@sparkfun.com.
---
Chat
Live Chat: You can chat with us live 9am to 12pm and 1pm to 5pm Mountain time by clicking here or using the "Chat with Us" link in the footer of any page on the site.
IRC: You can also converse in real time with SparkFun employees and customers using IRC by connecting to webchat.freenode.net/ and joining the #sparkfun channel.
---
In Person
Local Customers: Come visit! We give tours every Friday at 3pm. Check our tours page for more information.
You can pick your order up at our office rather than having it shipped. Please place your order through our website before you come pick it up. See our Local Pickup section for complete details.
SparkFun Electronics
6333 Dry Creek Parkway
Niwot, CO 80503

Driving Directions:
From downtown Boulder: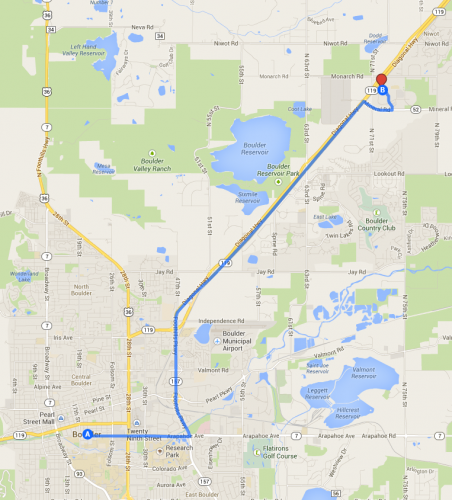 Here's a map to the new facility in Niwot.