Servos, a touch screen LCD, and more! Check out what's new for this week.
Favorited
Favorite
1
Before we get started with our new product post (and it's a good one this week, folks), we wanted to make a quick announcement - next week, starting at 12:01:01 a.m. (MT) on Monday, July 15th until Friday, July 19th at 11:59:59 p.m (MT)., SparkFun will be offering free economy shipping on orders over $60 (before taxes).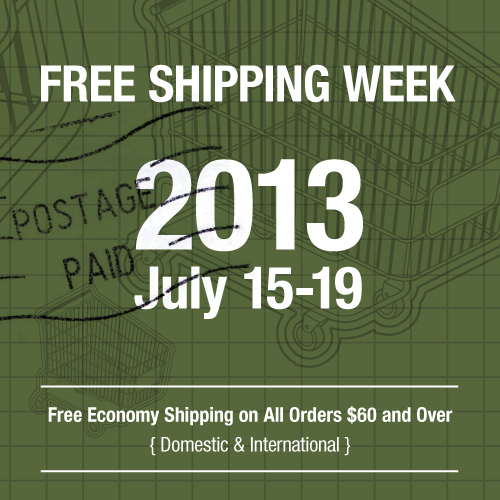 This applies to both domestic and international orders - when you check out, if your order is over $60, simply select the shipping method that says "Free" next to it. Sorry distributors - we love you guys, but this offer doesn't apply to you. Enjoy!
---
This week is a good one for new products at SparkFun. We have a few really cool new products and a neat project if you check out the video.
We will be using the money the Nerf Atrium Defense System generates to buy more darts and improve it over time. Expect to see it popping up in future videos. If you are ever in the area, let us know and sign up for a tour, you might get to shoot some of us.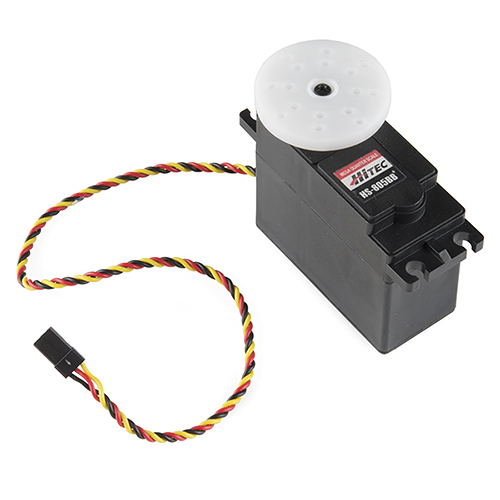 Anyone that's a robotics enthusiast might be excited to hear that we're now carrying Hitec brand servos. For now, we're carrying 5 different models, but plan to add more, based on sales and customer feedback. So if there's one you'd like to see us carry, say so in the comments!
We started out with a selection of various sizes and price points. The one you see above is the biggest servo we carry, the HS-805BB. This beast has roughly 300 oz-in of torque, dual ball bearings, and a 180-degree rotation. If you need a servo for something big and heavy, this might be perfect for you.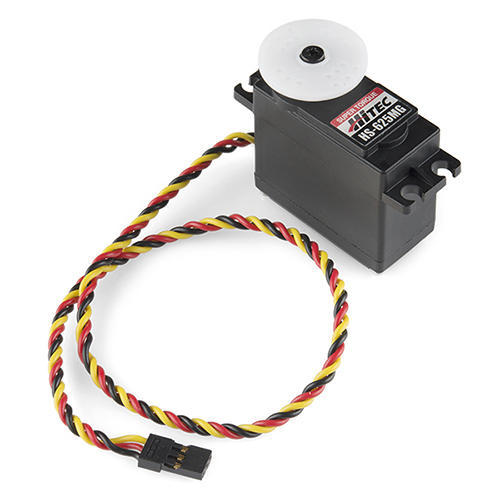 Don't quite need that much power or torque? Check out the HS-625MG. This one is a standard size servo with up to 94 oz-in of torque at 6V. It's not as powerful as the HS-805BB, but it's got dual ball bearings in addition to metal gears. This is a great general servo where you need a bit more oomph and metal gears.
If you don't need much power, but just want a good standard size servo, check out the HS-425BB. It retains the dual ball bearings, but steps down the torque to 57 oz-in, and loses the metal gears for nylon instead. This cuts down the price pretty significantly for a VERY affordable motor.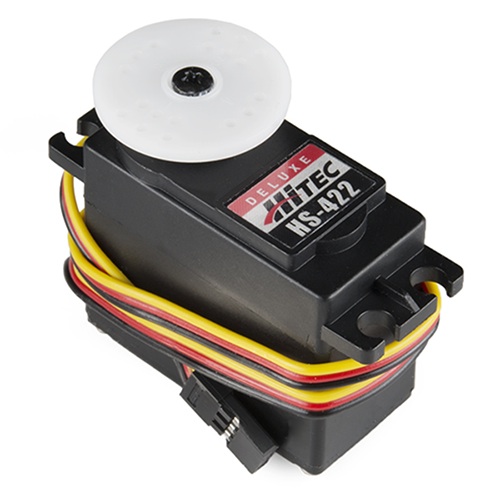 Sometimes you don't need anything fancy, you just need a good reliable motor. Well, the HS-422 is exactly that. It's a standard size servo with about 57 oz-in of torque (at 6V). To save cost, it has nylon gears and a bronze (oilite) bushing instead of ball bearings. For $10, it's a great servo and one of the most popular ones from Hitec.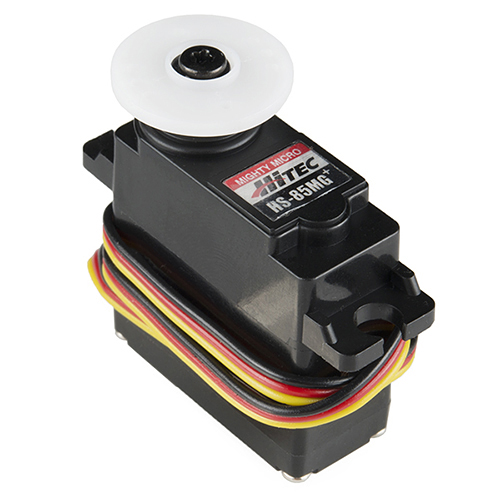 The HS-85MG is the last new servo we have from Hitec. This little guy is in the 'micro' size class but still has 49 oz-in of torque, which is pretty impressive. It also has full metal gears in addition to ball bearings. If space is a consideration requires a small servo, but you still need quality, check out the HS-85MG.
That does it for our new servo motors. As I said above, if you have any suggestions for others you'd like to see us carry, please let me know below in the comments.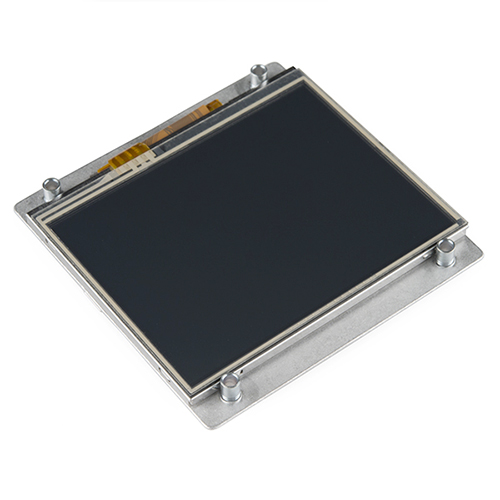 Earth LCD has created a new LCD/Arduino combination board that should make creating graphical interfaces easier for you. The arLCD combines a 3.5" touchscreen LCD with an Arduino development board. With the provided Arduino library, it makes it a lot easier to create a custom graphical interface without a ton of code. Check the video above for a quick demonstration.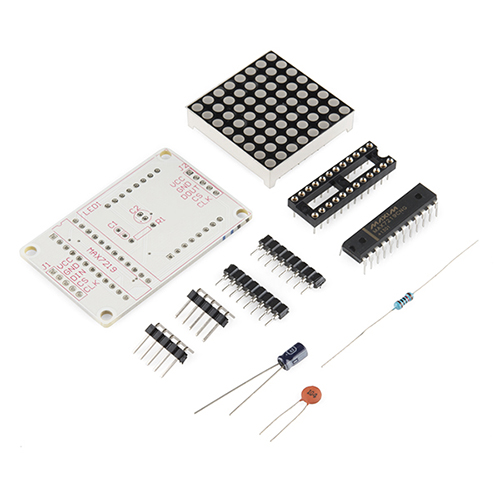 An LED matrix isn't necessarily difficult to use, but it can be a bit cumbersome. Just the number of connections can be annoying if you're using one with a breadboard. The LED Matrix Kit makes it really easy to use a 8x8 LCD matrix. It uses a MAX7219 to interface with the matrix and even includes some example code to get you started. It just takes a few minutes to solder the board together and then it easily connects to a microcontroller.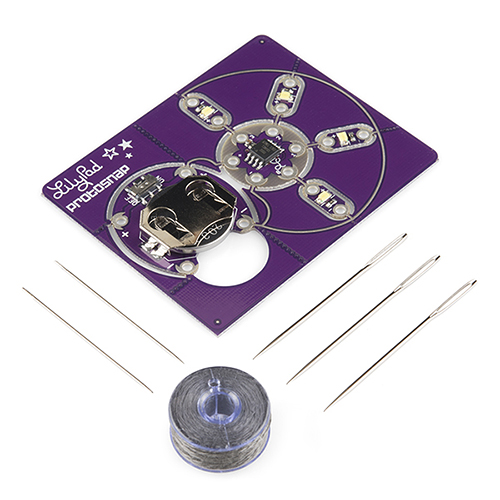 And lastly, we have a new e-textiles product, the ProtoSnap LilyTwinkle. This is the same board that's at the heart of the Firefly Jar Kit. It consists of a LilyTwinkle, 4 white LilyPad LEDs, and a LilyPad coin cell battery holder. We've even included some needles and thread so you can snap it apart and sew it into something.
Well, that's all I have for this week. We do have a very special new product next week, so be sure to check back. As always, thanks for reading, have a great weekend, and see you next week!