A few notes on the inner workings of Nest's new smoke detector
Favorited
Favorite
0
Merry Christmas everyone! We hope everyone has a great holiday season, whether you celebrate Christmas, Festivus, Hanukkah, or nothing at all.
You may remember back is 2011 when Nate busted open a Nest thermostat to have a look at its inside bits. We liked what we saw! So much so, in fact, that we installed a number of them around the building and eagerly awaited new gizmos from the folks at Nest. Well the wait has ended because we've just received our shiny new Nest Protect!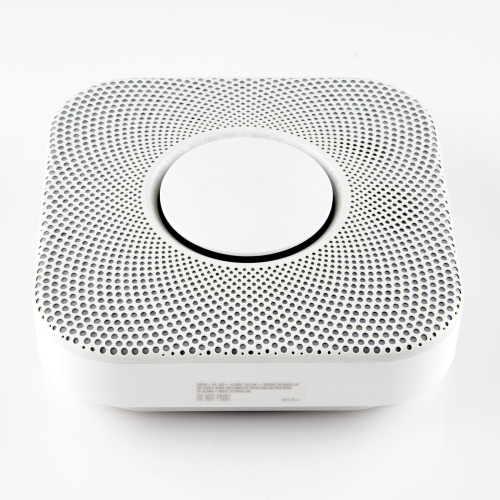 The Nest Protect is a smoke and CO detector that connects to the internet and also talks to your Nest thermostat. We suspected that something like this might be coming when Nate stumbled upon a Zigbee radio while inside the thermostat and Nest did not disappoint. The Protect is packed with features (and supporting hardware) that make it more effective and less annoying than your average smoke detector. For instance, if the Protect senses a little bit of smoke it will give you a heads-up alert before it goes into full alarm mode. To deactivate the heads-up alert, simply wave your hand at the device and it will calm down. If you've ever had a touchy smoke detector installed near your kitchen, that feature alone probably justifies the $130 pricetag. Not only that, but because it talks to any Nest thermostats that you've installed, it can do crazy things like shut off your gas furnace if it detects a fire or CO danger.
Enough about features, though, I'm not trying to sell you a smoke alarm. This thing is absolutely packed with sensors and the design of the enclosure is really slick. I'm in the process of finishing up the full teardown right now, but as a teaser how about a few pictures of the internals and a list of interesting parts?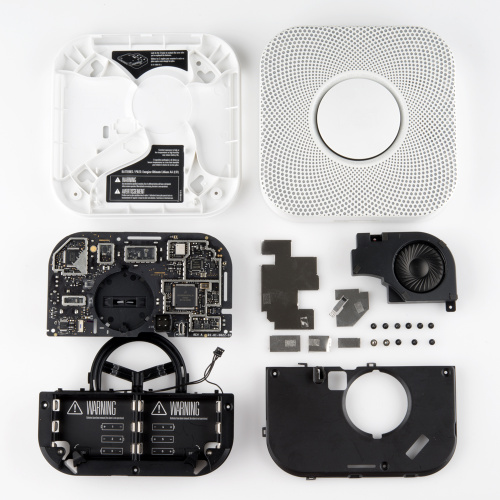 I'll make sure you get more detail on this when the full-fledged teardown is complete, but here's a list of the most interesting parts:
Passive IR Sensor (No identifying markings)

Light Sensor (No Identifying Markings)
Holy Cow! That's a lot of technology for $130… The layout of the devices is really clever, too. That big button on the front of the device? It doubles as a Fresnel lens for the PIR! That kind of design is present throughout the enclosure so be sure to stay tuned for the in-depth teardown where I'll inspect how all of these sensors work together!