Hello loyal NPP (that's New Product Post) readers and welcome to the year 2012! We have a couple of products to talk about, so let's just start right in and see what we have for this week.
I always get excited for really practical products. I like things that almost anyone can find useful and have many uses. I can't seem to have enough alligator clips sitting around. The tweezers also make life a lot easier when measuring something one-handed or small.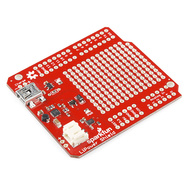 More and more we are becoming a society on-the-go. Why keep your Arduino tethered to a power source? Use the LiPower Shield instead. It combines a 5V boost converter, fuel gauge, and charging circuit in one easy-to-use shield. You can charge your lipo battery, boost it's output to 5V for your Arduino, and even measure your batterie's power level through your program.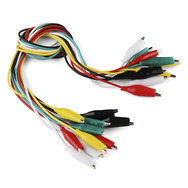 Jumper wires are nice, but what if you just want to clip on to an existing wire? Meet your new best friend, alligator test leads. They come in packs of 10 and are just under 2 feet long, which gives you plenty of room to make a hideous rat's nest out of them all over your desk.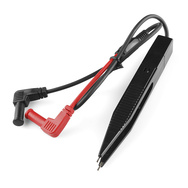 Let's say you already have a meter and don't necessarily want a pair of our smart tweezers, but still want (or need) to measure small components. Check out these multimeter tweezer probes. Products don't get much simpler than these. They are plastic tweezers with metal probe tips and a pair of banana cables coming out the end. Plug them into your meter and you can easily measure small SMD components while drinking a beer.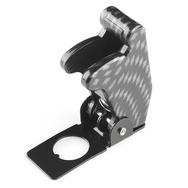 Toggle switch covers are not only neat looking, but they serve a good purpose as well. Also called missile switch covers, they are designed so the switch cannot be engaged while the cover is closed, and shutting the cover also disengages the switch. We carry these covers in both red and brand new (simulated) carbon fiber.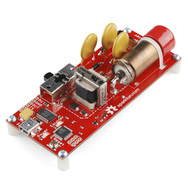 We also have a new version of the geiger counter this week. The new version changes around some of the footprints, uses a new and better switch, and supports Arduino's reset feature. We've been having troubles sourcing the geiger tubes ever since the Japanese tsunami/earthquake. Our suppliers are still very limited and we're doing our best to keep them in stock.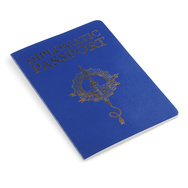 What better way to flaunt your street geek cred than with the Hackerspace Passport. The Hackerspace Passport was a concept that sprung up as a way for hackers to show off their membership and credentials when visiting other hackerspaces. It's also a way to record visits to other spaces and encourages hackers to intermingle and spread ideas. Use it at upcoming SparkFun events as well as hackerspaces all over the globe!
Well, that's all I have for this week. Thanks for reading and we'll see you again next week with even more new products.