Why the rain and what happened to the Boulderites.
Favorited
Favorite
0
You may remember SparkFun was closed on September 12th and 13th due to rain and flooding events in Boulder, Co. This was the first ever "rain day" for SparkFun that applied under our snow day rules. It was a crazy time for a lot of people and there was just too much water for most people to come into work. Luckily a couple people were able to come to SFE so we could capture this awesome photo.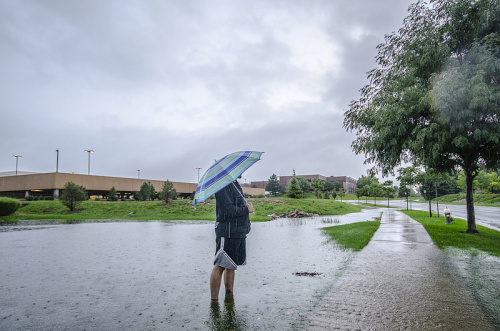 Our "rain day(s)" were labeled as a 1000 year rainfall event. That doesn't mean that every 1000 years on the dot there is a ton of rainfall. It just means there is a .1% chance in a given year that much rainfall will occur at one time. At this point, you are probably asking, well, how much rain was there?
There were about eight days that led to just over 18 inches of rain. This is over half of our annual precipitation in Boulder that came in just over one week! Since it had rained in the days before the big event, the soil became saturated. On September 12th, with just over 9 inches of rain that day, the water flowed over the soil causing the flash flooding.
The Weather Channel
Colorado gets monsoon rain annually that typically ends in August. This year, it continued into September. The system came from the Pacific Ocean just West of Mexico moving North over the mountains causing an upslope effect. Basically, when the air flows uphill, it expands and cools, causing the moisture to fall as rain. The storm hovered over the Western slope and central mountains for a while before moving into the Front Range. Before the rain, a high-pressure system caused record temperatures in the Boulder area. The warmer air means more moisture can be held. So when this high-pressure system shifted, the following monsoon rains moved in with low-pressure and more rain than expected.
Faculty from the University of Colorado at Boulder and the National Oceanic and Atmospheric Administration (NOAA) estimated the flooding to be a 25-50 year flood event. It is estimated to be $2 billion in damages with many structures labeled damaged or destroyed.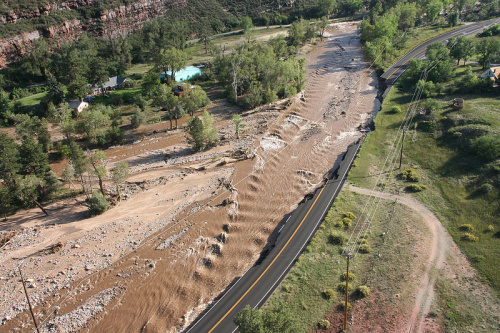 CDOT SH 7 2013
Here's what happened over those few days:
People unaccounted for: 0
Deaths: 4
Homes destroyed: 354
Homes damaged: 557
Commercial properties damages: 33
Commercial properties destroyed: 3
Total properties assessed: 5,592
People evacuated by air: 1,102
People evacuated by road: 707
Miles of roads damaged: approx. 150
Cost to replace damaged roads: $100 million - $150 million
Cost of damage to city infrastructure, parks and open space: $49 million
~All came from the Boulder County Office of Emergency Management~
With FEMA's help there were many disaster assistance programs set up in vacant buildings. So far FEMA has given $4.2 million with 446 claims paid and 1,964 claims total.
If you remember, SparkFun also did a donation day to help out all those who could use it. On September 23rd we donated 10% of our sales to the United Way Foothills Flood Relief Fund. Not only that, but Elevations Credit Union matched us in our donation. Thanks to you guys, internal employees and SFE matching (and Elevations Credit Union) all together, we raised $35,218.
Thanks again to all who helped donate that day!