SparkFun gets invited to the White House Maker Faire!
Favorited
Favorite
0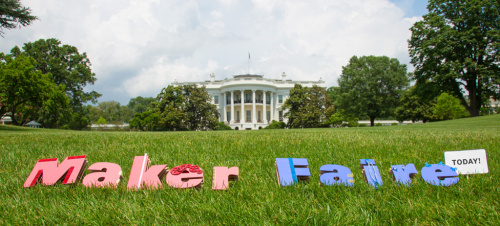 Today, SparkFun is at the White House, participating in the first-ever White House Maker Faire. This event features Makers, innovators, and entrepreneurs of all ages who are using cutting-edge tools to bring their ideas to life. We're very excited to be participating and we're proud to be supporters of the Maker Movement.
As part of our participation, we've pledged to invest significant resources to create instructional materials specifically for informal education, openly available not only to the instructors we interface directly with, but to anyone who wants to use them.
So how does one get invited to the White House? Well, I never thought I would get this in my inbox: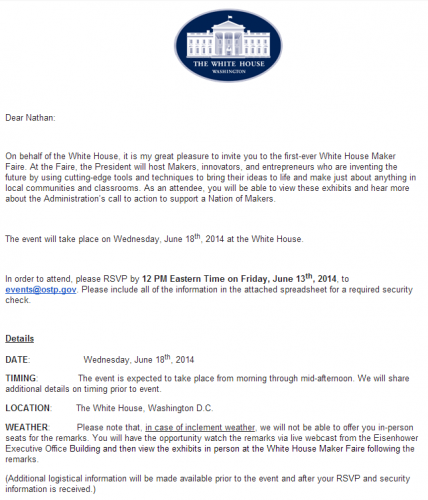 In case you missed the funny bit here it is again:
Please include all of the information in the attached spreadsheet for a required security check.
HOLY MACKEREL … You want me to send my SSN via email in a spreadsheet? What are you going to do? Secret Service here I come!
I am super excited to be invited but this was the work of the good people at SparkFun. Namely Lindsay and Derek in our education department. It's awesome to know that SparkFun is doing stuff big enough and important enough to get eyebrow raises from some very powerful people.
We have to give a hat tip to Make as well. Maker Faires continue to pop up all over the country and Dale continues to bring together different communities united as Makers. It's a very cool thing.
We're not sure excactly what to expect with the White House Maker Faire but we promise to bring a full-report back when we return!
Here's a live stream of the event for your enjoyment:
Today has also been declared "National Day of Making." What exactly is that? Well - to put it succinctly - today is the day to finish that project you've been putting off, to learn a new skill, or to start building something new. Today is a day we can all unite in the fact that we are makers, hackers, crafters and inventors!
So go on, build something awesome!