Some information on getting your orders in time for the holidays.
Favorited
Favorite
0
So Thanksgiving has officially passed and Christmas time is in full-swing. I actually did see some Easter stuff at the grocery store yesterday (Reese's eggs!), so apparently the stores are still interested in promoting holiday confusion. There is probably a small and magical time-frame when Thanksgiving, Christmas, Valentine's Day, and Easter are all simultaneously being pushed. Gotta love it.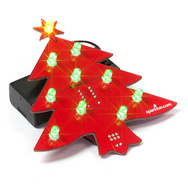 It's a Through-Hole Christmas!
As we all know, nothing makes a better Christmas present than a SparkFun hoodie. But we wanted to give a quick update on when you can order and expect your goodies to arrive in time for the big day. As you probably know, Christmas (Dec. 25th) falls on a Sunday this year. This is actually good for shipping because we won't really lose any shipping days because of the holiday! Here is the deal:
If you place an order by 11 AM Mountain Time on Dec. 22nd (Thursday) AND select overnight shipping, your order should arrive on the 23rd.


This banner will appear periodically at the top of the page to remind you!
Be aware that this only means we can guarantee it will be on the truck and ready to go. After that, if FedEx gets called in to reinforce Santa or your package falls off the back of the truck somewhere, that's on them. But before 11 AM Mountain Time on Dec. 22nd is the very last day you can place an order and reasonably expect to get your package in time for Christmas - but only with overnight shipping! So, get those orders in now and we hope you have a happy holiday season!