Our design philosophy behind the Edison blocks, and how you can help evolve the ecosystem!
Favorited
Favorite
0
It's been a whirlwind few days for us here at SparkFun. On Tuesday Intel® announced the Edison, a tiny development platform that packs a wallop of a punch.
Here's the rundown if you missed it: hidden under that RF shield is an Atom processor – a dual-core, 500MHz x86 CPU – supported by 1GB of LPDDR3 RAM, 4GB of flash, and, most important of all, integrated WiFi and Bluetooth (2.1 and 4.0/BLE). It comes pre-installed with a Yocto Linux distribution to help manage all of that hardware.
To interface with the Edison you have to connect something to its fine-pitch, 70-pin, Hirose connector. On that connector, the Edison breaks out I2C, SPI, multiple UARTs, and all sorts of GPIOs, so there should be no shortage of components to connect to it.
To get every one started, Intel's released a couple of base boards: the Arduino Breakout and the Mini Breakout. Those should help ease folks into the new platform; they're a great foundation to start toying around with the Edison and exploring its capabilities. Moving beyond that, though, we hope our assortment of "blocks" will help to boost the Edison ecosystem and give the powerful little module the hardware support it deserves.
In the short time we've had to play with the Edison, we've brainstormed a few of the more common components we think it will be interfaced with. That list includes anything from simple console boards to 9DOF IMU's, servo drivers, DC motor drivers and OLED displays. We've segmented those sub-circuits into 14 unique boards we call "Edison Blocks", all designed to stack together so you can pick-and-choose which components you want to integrate into your Edison project.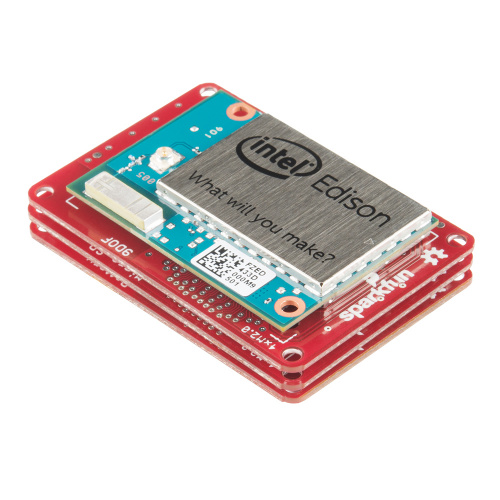 Combine the Edison with a 9DOF, motor controller, and console block to create your own balancing robot!
The Edison Block Standard
With over a dozen boards to design, our engineers had to begin by coming up with a standardized layout so they'd all work together. We began by painstakingly laying out a general purpose escape route – a set of traces and vias that would break all of the signals out, while also passing them from the bottom connector to the top. Then we built in rules like where inputs and outputs should go, or where the board should generally be void of connectors. We ended up with a template that looked a little something like this: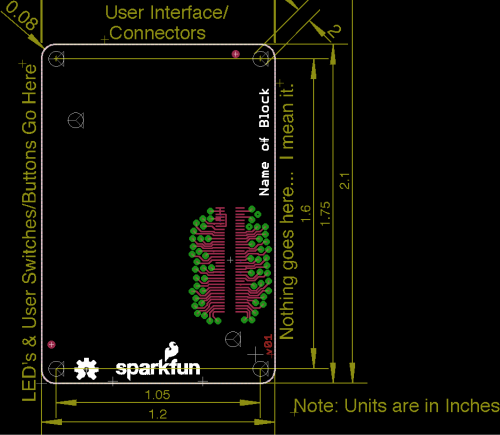 The thought is: if we all follow the same standard while designing these boards, they should be interchangeable. Plus, any enclosures that might come down the pipeline would be agnostic to the Edison blocks you're sticking in there.
So far we've designed about a dozen boards according to this spec, but we want to see much more than that. We want Edison blocks to take off, maybe they'll become the next evolution of Arduino shields. But to get there we'll need the help of our friends and community. So here are our template design files, take them and see what you can come up with!
Download the Edison Block Template
On top of that Intel's documentation might be of help, particularly the hardware guide.
We're super-excited about the Edison ecosystem that we're helping to cultivate. We think it has tons of potential, but we'd love help getting its feet off the ground. If you have an idea – something you'd like to see integrated with the Edison – use our template and try designing an Edison block for it. Want to add GPS or XBee capability to the Edison? Design it! Then let us know what you've come up with!