So what workshops are we running this year at Maker Faire?
Favorited
Favorite
0
In case you missed the reminder post, we are heading to San Mateo, Cali. in just a few short days for Maker Faire - a two-day family-friendly event where like-minded people gather to create, share, and celebrate the entire DIY culture. It's pretty much awesome. We've been getting a few questions from the community about what workshops we are going to be running this year, so here ya go!
The first workshop is one that you might know - the PTH (plated through-hole) Soldering Workshop. If you've never soldered before (or just like to solder), this is the class for you! We've been teaching soldering a lot over the past few years - this workshop is a combination of everything we've learned. This course teaches through-hole soldering and is recommended for the true beginner. This will be a hands-on class where the students learn techniques to help them solder through-hole components. By the end of the workshop, you will be proficient at through-hole soldering and will have a shiny new SparkFun toy to take home and show off to your friends (we get funny looks all the time).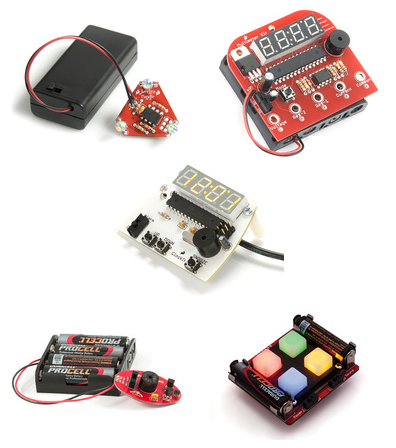 The kits for the PTH workshop are Simon PTH, ClockIt, Multimeter, LectroCandle , and the Terror-min.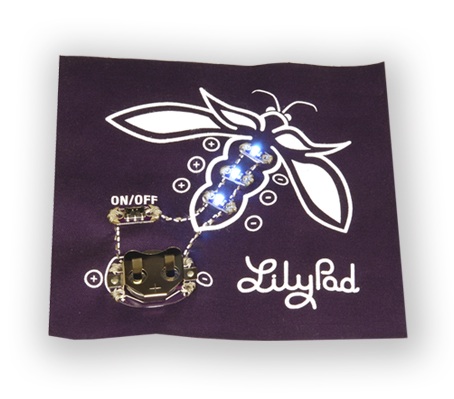 SparkFun is also offering a LilyPad Workshop. This workshop is an easy way to add light to any project and is a great introduction to simple electrical circuits. In this workshop, you will learn fundamental circuit creation and how to get the most out of your battery. Using LilyPad technology, you will learn how to add LEDs to a fabric swatch (or your own piece of clothing). This is a great introductory class with the opportunity to learn the basics of E-Textiles.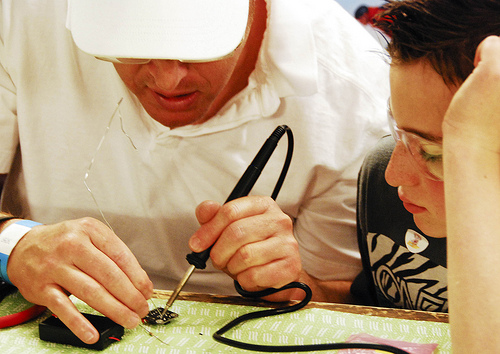 We will stop filling seats one hour before the Faire closes, so make sure not to show up right at the end of the day. Class times are as follows (we will fill seats on a rotating basis):
The LilyPad Workshop
Saturday from 10:00am to 12:00pm
Sunday: 12:00pm to Faire close
The PTH Workshop
Saturday: 12:00pm to Faire close
Sunday: 12:00pm to Faire close
Hope to see you there!