We're back with a whole bunch of new products and our most dangerous project to date, the EPIC. Check out the video and the products.
Favorited
Favorite
0
First thing's first: Happy Friday and congrats to Member #160314 -- you're July's Caption Contest winner! Now just sit back, bask in the accolades and find a spot at home for your "Hacker On The Go" wishlist!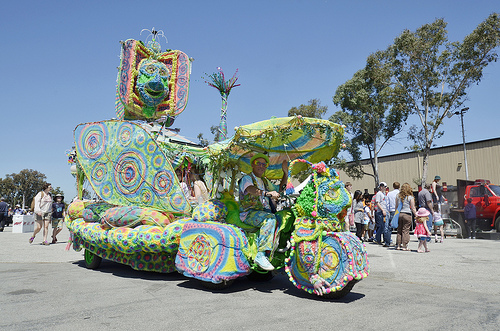 And from that day on, Bill was forced to use leadless solder.
Now on to our new products! We had a lot of fun this week. An unlikely product turned into a very amusing demo project. We've not yet had this many people stopping by the office to see what we were up to. This week, we introduce the EPIC.

Vimeo link here.
The EPIC (electronic pen intertial cannon) is just a hard drive, some MicroRax, a wheel, power supply, a laser, and a good helping of plexiglass. Load up 10 pens and fire them off into your favorite soft target. It worked better than we ever expected. If you have a spare hard drive, it's pretty easy to make. We've even whipped up a simple target you can print out and use.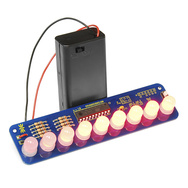 If you've ever watched Knight Rider or Battlestar Galactica, you're probably familiar with the Larson Scanner. With this kitt from Evil Mad Science, you can build your own! The kit comes with the PCB, battery holder, big 10mm red LEDs, a pre-programmed IC and all the other components you need. Solder it together, add batteries, and you're good to go.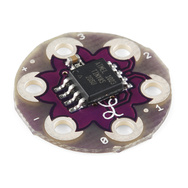 If you're looking to play around with e-textiles but don't want to mess around with programming and code, you might want to check out two of our new LilyPad products, the LilyTiny and the LilyTwinkle. The two have the same hardware, but slightly different programming. The LilyTwinkle does what the name suggests, it twinkles. Hook up some LEDs and they will all randomly twinkle like stars. With the LilyTiny, each LED does something different. One twinkles, one blinks, one fades, etc. The LilyTiny is geared toward classes and education to show the different ways to control LEDs.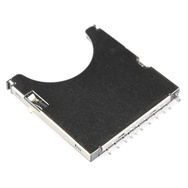 One of the difficulties with running a company that does in-house production is that products change. And when your assembly contains multiple parts, the chances of needing a revision increase. Things were going just fine, and then we heard that this SD card socket was discontinued. It was being replaced with a new version, but the footprint was slightly different. That meant that not only would we need to change the product visible on the storefront site (what you are on right now), but our production department would need to change all the existing designs to use the new footprint. This would mean new PCBs, new revisions, and a lot of wasted parts (if we can't source the old SD socket, we can't use the PCBs we had in stock either). TL;DR - production can be complicated.
Sometimes you need a bit more current than can be provided by our small plug-in power supplies. These little power supplies are similar to what you'd find on a laptop or external hard drive. They provide 12V @ 2A as well as 5V @ 2A. They work very well in applications where you need dual voltages. One end has a traditional Molex connector (the type found on IDE hard drives, CD-ROMs, etc.) and the other has a 15A IEC socket. We do sell a power cable separately, but you most likely have one already.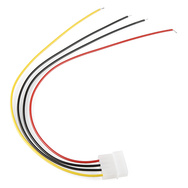 If your project doesn't have a mating connector, check out this Molex pigtail connector. It mates directly with the power supply above, and has four 12-inch unterminated wires that can plug into your latest invention.
If you want to use the connector that comes from the power supply and make a clean connection, check out either of these connectors. We have a right-angle as well as a straight one. Either can be mounted to a PCB. You could use the straight one to make your own custom wiring harness as well.
If you've planned on using any of our ProtoSnap LilyPad products, you might want to plan out your project before you snap everything apart. The benefit of the ProtoSnap product line is the ability to prototype a design and THEN snap it apart into the individual parts. These LilyPad stickers let you do exactly that. They are the same size, shape, and layout as the actual ProtoSnap LilyPad boards, so you can use the stickers to lay out your project before snapping apart the boards.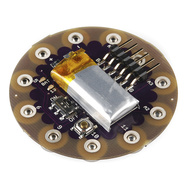 Think of the LilyPad SimpleSnap as a LilyPad Simple with a LiPo battery attached, and with snaps instead of petals. Now you don't need to permanently sew your LilyPad board into your clothing, you can snap it on and off with fabric snaps!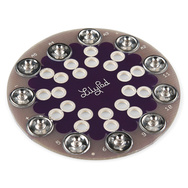 To go with your new LilyPad SimpleSnap, we have the LilyPad SimpleSnap Protoboard. It has places for sewing or soldering, and snaps that mate to the SimpleSnap board. We will eventually be selling packs of snaps to go with both boards, but for now they can be easily found at most craft and hobby stores.
So there you have it! Last week I promised a demo and I think we came through with something pretty fun this week. Plus, it's nice to get Dave in on the shenanigans again. Hope you enjoyed it. See you next week!