BatchPCB is moving on to someone who can give it the love and attention it deserves.
Favorited
Favorite
0
First off, we wanted to provide an update on the results of the SparkFun Donation Day. If you missed it, 10% of all SparkFun sales on this past Monday (5/20) were donated to the Electronics Frontier Foundation. We chose EFF because we think their values align closely with ours. In the words of EFF Activist Parker Higgins:
"At EFF, we like to see people learn about the technology they own, make improvements, and to spread that knowledge freely (and fight in Congress and the courts to make sure they can!). That's a mission that SparkFun is totally aligned with, and we're so glad to see that the hackers, makers, tinkerers, and other curious people in the SparkFun community recognize that and give us the support we need to keep defending digital rights."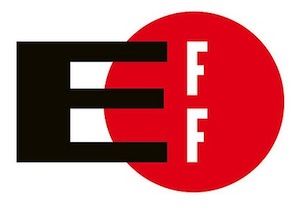 Once again, the members of the SparkFun community didn't disappoint and we are proud to announce we will be cutting a check for $13,328.85. As you can see (by doing a touch of math), it was a huge sales day - one of the biggest we've ever seen. Thank you so much for participating and helping out the EFF!
---
You may or may not have known this, but for years, SparkFun has run a second company called BatchPCB. We created BatchPCB as a way of giving hobbyists, students and engineers an easy way to get small runs of custom PCBs fabricated for a reasonable price. Our idea was simple - users submitted their designs, which were "batched" together onto one panel. We ordered the entire panel, broke it up into the individual designs, and then sent you your board. It took the idea of "power in numbers" and applied it to PCB fabrication.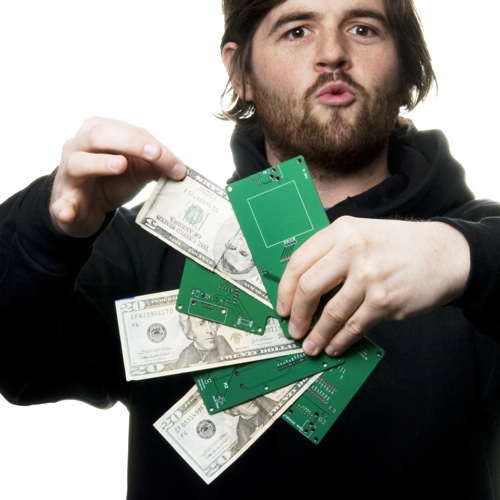 Patrick from BatchPCB showing off for the new "marketplace feature" which allowed users to sell their designs directly on the BatchPCB website.
Fast-forward to a few months back, and BatchPCB continued to be a successful enterprise. However, SparkFun itself has grown beyond what we really ever thought was possible. We had put a ton of time, energy and love into BatchPCB over the years, but we came to realize that it was playing second fiddle to SparkFun. It was a nice fiddle - and a useful, functional fiddle - but a second fiddle, nonetheless.
Hey! Those are BatchPCB boards! (Seriously, they are.)
So we started to brainstorm what to do. We realized BatchPCB was a valuable resource to many electronics enthusiasts, so closing up shop was never really an option. We realized that the only way BatchPCB could get the attention it deserved was to sell it to someone who could provide a bit more focus. So we began looking for suitable buyers.

It wasn't long before we discovered OSH Park. We found that their ideals align closely with ours and they had the infrastructure and know-how to help BatchPCB thrive. So after a series of discussions, we came to an agreement, and BatchPCB ownership was officially transferred on May 1st, 2013.
So there you have it. We now recommend OSH Park for all your custom PCB fabrication needs. They do great, high-quality work - plus their boards are an awesome purple color. It is a bit bittersweet to see BatchPCB migrate to a new home, but we know her new owners will treat her well. Farewell, Batch - we barely knew thee.