Give your old laptop new life with a little WiFi boost.
Favorited
Favorite
1
Sometimes it's necessary to modify existing technology. Sometimes it can be done for fun. Computers have a long history of being modified. However, as computers, namely laptops, have gotten more compact, it's become increasingly harder to perform any sort of modifications or fixes on them without the help of professionals. And, as the price of such technology increases, so to does the fear of cracking one open to meddle with any of the parts inside. I am of the belief that we have a right to do whatever we choose with the products we buy as consumers. We should have the right, and the access, to the necessary information, to not only modify goods but also to fix them should something go wrong. In a world stricken with planned obsolescence and ever increasing technological advances, it may seem impossible at times to work on and modify the technology that makes up our everyday lives. But, with a little know-how and the right tools, anyone is capable of taking that power back into their own hands.
I recently had such a problem. I had purchased a used Macbook from Craigslist. It functioned perfectly for over a year, and then, one day, the WiFi started acting up. While traveling in Boston, I discovered that I could not connect to the wireless internet provided by the hotel in which we were staying. I tried every trick I could think of, but ultimately nothing worked. I came to the conclusion that my wireless card had malfunctioned and began looking around for a replacement. Once I returned home, the WiFi started working, but only in select locations. I noticed that if I was close to the wireless router (such as in my home), I could connect just fine, but if I was far away from it (such as in a hotel), it would just not connect. Thus, I came to the conclusion that it was not my wireless card but the internal WiFi antenna. This made sense. The laptop was used and probably had been opened and closed hundreds, if not thousands, of times, wearing out the cable antenna that runs from the card up around the LCD.
Luckily for me, I had modded the wireless antenna on a laptop before. Many years back, I had purchased an Asus EeePC online. It was meant to be a laptop specifically for my vehicle. Wardriving was a popular pastime amongst my classmates in college. I was never big on the idea, or savvy enough to attempt it, but I was still intrigued by the idea of getting free internet on the road. I found some EeePC mod tutorials online and set about adding an external antenna connection to my laptop. Once complete, I used an external antenna atop my car to "borrow" internet from McDonalds and Starbucks around the neighborhood. It worked great, but it wasn't long before the smartphone in my pocket made my rig obsolete.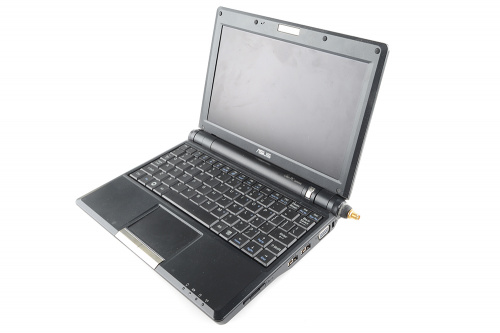 The Asus EeePC with an external antenna connection protruding out the side.
Using the knowledge I had gained while hacking the EeePC, I decided I would try this fix on my Macbook before buying a new wireless card. Again, using some awesome tutorials I found on ifixit.com, I was able to easily take apart the computer and begin my hack. Using my trusty Dremel, I very carefully chiseled out a slot for my external antenna connection. I then used one of SparkFun's U.FL to RP-SMA connectors to replace one of the internal antenna connections. Finishing it up with some Sugru made for a sleek looking protrusion on my Mac.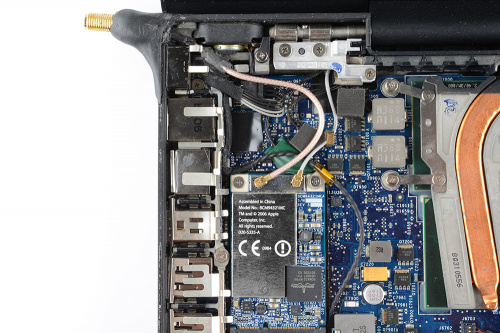 As you can see, there was little room inside the laptop for the connector, so the only choice was to have it live on the outside of the laptop.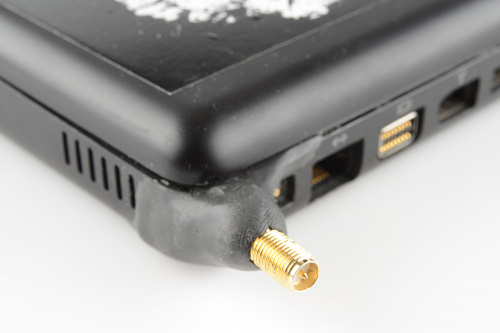 The modded Macbook. I had to form the Sugru just right so the power plug would fit in place
Once the Sugru had dried, I put everything back together to make sure the laptop still worked. Then, I attached one of our 2.4GHz duck antennas to the RP-SMA connector. I noticed an increased range in my WiFi right away. I took it to some other locations I had previously had trouble getting a connection, and, with my new mod, the laptop had no issues connecting whatsoever.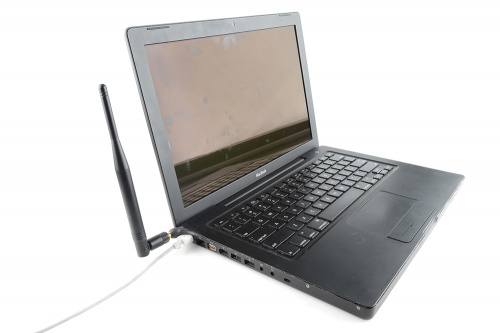 The final mod has been in place for several months now. I was worried about it sticking out too far and breaking off, but the Sugru has proven to be very resilient, even when my laptop gets shuttled around in my bag. As you can see, bringing some new life to older products just takes a little ingenuity, some searching, and the right tools.