Announcing the Christmas Candy Pro Mini Giveaway - taking place on Dec. 18th.
Favorited
Favorite
0
A week from today (that's December 18th, 2013), we are giving away delicious Christmas candy. Well, our version of Christmas candy (and it might not be delicious - in fact, we don't recommend eating it).
Behold, the Limited Edition Christmas Candy Arduino Pro Mini: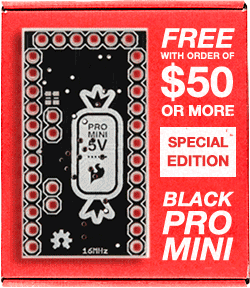 The details are pretty simple - on December 18th only, starting at 9 a.m Mountain Time, we'll be putting one of our Limited Edition 5V Pro Minis in the first 700 orders over $50 (not including shipping/tax) for free!
We'll be putting the Pro Minis in qualifying orders until we run out - that could be a few hours, it could be a few minutes, it could last the whole day. So join us on December 18th and get one while supplies last!