Check out the live stream of our packaging contest and we have a new robotics class!
Favorited
Favorite
0
Update: here's the UStream link for today's competition. The actual competition will start at 12 PM Mountain Time.
First off, a quick announcement of an event taking place today! SparkFun has a dedicated packaging crew to get parts ready to be picked and shipped to our wonderful customers. Recently, an idea was put forth to pit the two packaging crews (one from kitting and one from receiving) against each other. The PACKAGE-OFF 2012 will be starting at high noon today, and will involve a game-show style contest between CJ and Alina (receiving), and Arthur and Taylor (kitting). On the line is a sweet trophy, bragging rights, and the losing team's manager will be getting a tattoo. While the event is not open to the public, we will be streaming it live. I will update this post when the feed goes live around 12 PM Mountain Time today. Game on at 12 on the 12th!
Today, we are also announcing a new class called Enhancing SparkFun's ProtoSnap MiniBot. This class is a sneak-peek at the ProtoSnap MiniBot, a product that has been in development for a while now and is not yet available outside of the class. Michael Margolis, author of the Arduino Cookbook, will be present to show students how to customize it for their project needs.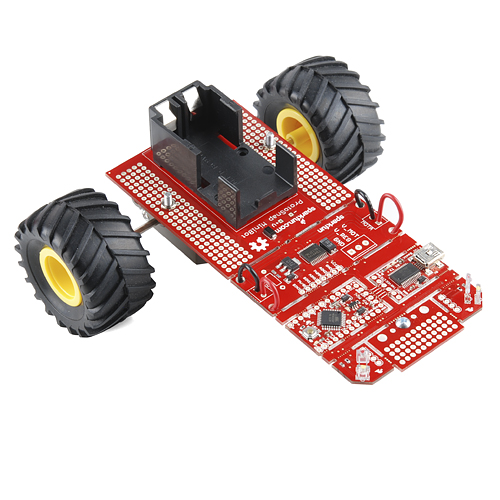 In this class, you'll explore all kinds of robotics concepts like navigation, obstacle detection, handling sensor data, and more. Specifically, we'll be covering:
How to design a project to make it easy to enhance and modify.

Using Arduino and a motor controller to bring the robot to life.

Adding remote control – using an IR sensor diode and Keychain IR sender.

Enabling simple autonomous movement – using a distance sensor (IR)

to detect objects directly ahead.

Enabling the robot to look around – mounting the distance sensor on

a servo and using the distance to objects to determine robot movement.

Giving the robot eyes in the back of its head – using an Ultrasonic

distance sensor to prevent the robot from backing into an object.

Enabling the robot to see the ground – using simple IR sensors for

line or edge detection.

Soldering and mounting components to the robot
This is a class we are really excited about and think it serves as a great introduction to the world of robotics. Hope to see you there!