Fire up your caption cannons.
Favorited
Favorite
0
Inventory day moved everything back just a touch, so "Engineering Roundtable" will go live tomorrow. Additionally, our Shipping department is pretty backed up following inventory day. Orders that meet our Same-Day Shipping requirements are going out OK, but orders shipping First Class Mail and Economy are behind. We're planning to be caught up by Wednesday, January 16th. Sorry for the delay and any inconvenience!
I know it's a Monday morning and you may have not have even had your coffee yet - but gosh darnit - we need you to be funny! That's right - it's caption contest time. As always, lets go over a few rules:
The contest will run from when this post goes live until Wednesday, January 16th at 11 a.m. Mountain Time.
Leave your best caption in the comments section below. That is the only way to enter - do not submit your entry via the feedback form!
We'll choose a winner and announce it next week.
Here's this month's photo: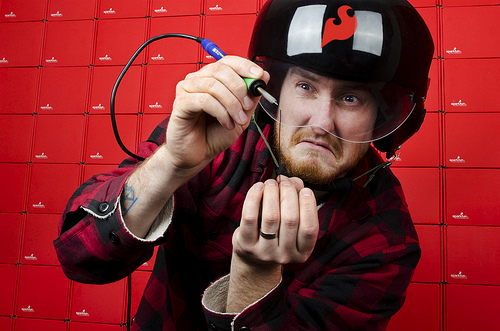 As for a prize - rather than choosing a specific product this month, I'm going to leave it up to you. The winner this month will receive a $100 SparkFun credit to use as they see fit. If you want to buy a whole bunch of capacitors, go for it!
Good luck and may the best caption win!