This week we have our biggest New Product Post ever! Check out the new Actobotics product line.
Favorited
Favorite
0
This week is a very special one for new products. Not only do we have more new products than ever before, but we also have a new video series as well. This week we are happy to introduce the Actobotics line of robotic components. We have a record-breaking 438 new products this week! Check out the video below.
SparkFun has been carrying some robotic components since the early days, but they've never been a substantial portion of our catalog. With the increasing demand for robotics for various competitions, and better availability of controllers, sensors and processors, we felt it was a good idea to expand our selection of components to complement our existing product selection.
To introduce this new venture, we thought it would be good to start a short video series, Robotics 101, to go over the basics of what you might need to know to build your own robot. We will be covering topics like motor choice, angular versus linear motion, servo modification, feedback systems, and more. The first video for this week is just a brief introduction to not only Actobotics, but the video series itself. There will be a total of nine videos, with a new one coming out every week.
Since this IS a New Product Post, let's talk products! We ultimately chose Actobotics because of their vast product selection, quality, and compatibility. As you can see from browsing the Robotics Category, there should be just about every size of gear, tube, or shaft that you need. Additionally, instead of plastic, they opt for aluminum or stainless steel, and use ball bearings instead of relying on plastic bushings. Lastly, we really like the fact that nearly all of the products work seamlessly with one another. Actobotics products use either a 0.77" or 1.5" hole pattern, allowing you to easily connect a gear to your servo, and then connect your servo to one of the channels or beams.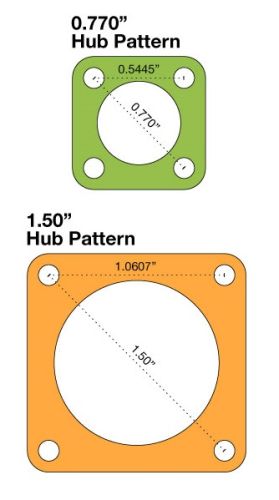 We have added images on each of the product pages (where applicable) to show which hub pattern each part is compatible with. If two parts both use the 0.77" hub pattern, they will work together – it's that simple! For all of the parts, you only need 6-32 screws and a screw driver or hex wrench for assembly. There's no need to drill or tap your own holes or even use washer or nuts. This makes putting together relatively complex and rigid structures quick and painless.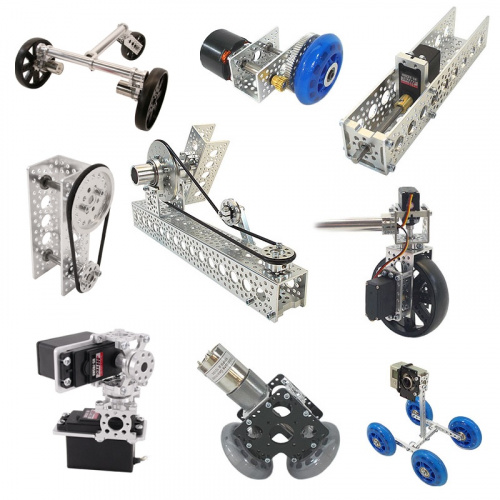 I'm not going to talk about all the products individually, but I do want to give a brief overview of the categories and products so you have a better idea of how to find what you need. Let's start with the structural category, which is the backbone of the Actobotics product line.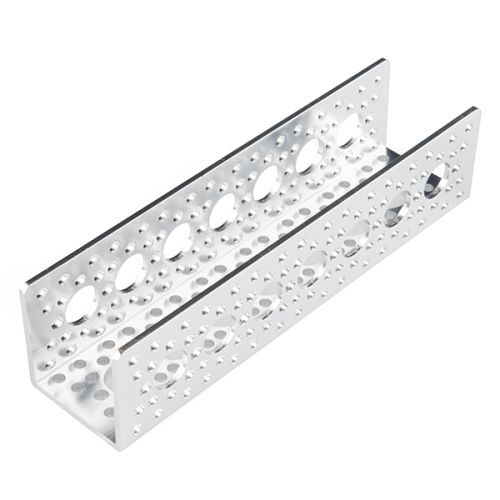 The Actobotics aluminum channels come in sizes as small as 1.5" all the way up to 24". They all utilize the 0.77" and 1.5" hole pattern and even have 0.5" holes that are prefect for a 0.5" flanged ball bearing. These channels are strong and can easily serve as the skeleton for your creation. They have numerous attachment points and will work with nearly all of the other products. If you need something a bit smaller, you can also check out the the aluminum beams, which can also be found in the structural category. Screw plates are an easy way to connect multiple channels together. There are also numerous hubs and clamps which allow you to connect just about anything.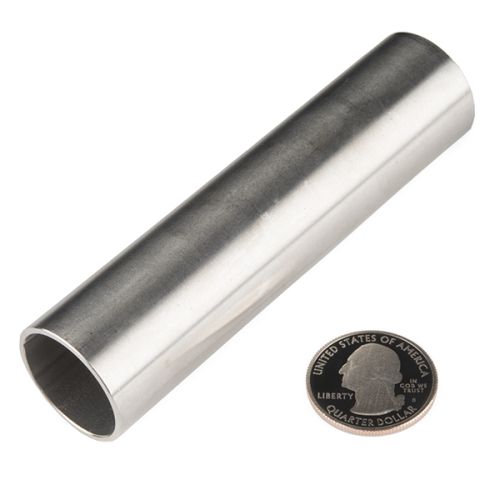 We also now have a wide variety of both shafts (up to ½" thick) and tubing (up to 1" thick) in both aluminum and stainless steel. These can work in conjunction with hubs and clamps to either form rigid structure, or drive-shafts for wheels, servos, levers, etc. Check out the couplers/collars category for everything you need to connect the output shaft of a motor to your drive-shaft. Also, while you're there, check the bearing blocks category for all our ball-bearing mounting options. Use shaft spacers as a spacer between your bearing and rotating component, such as a wheel.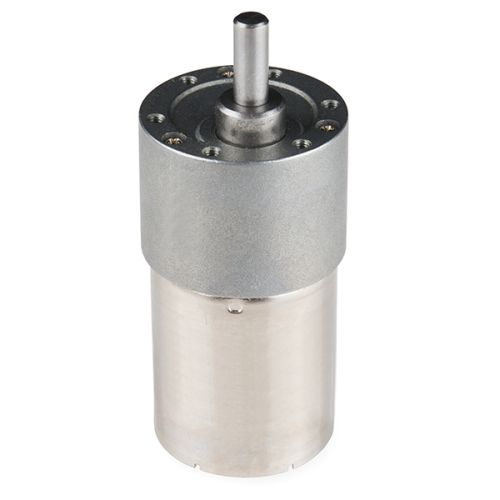 Need to get things moving? Check out our new selection of DC gearmotors. We have a new selection of micro gearmotors with a range of 90 RPM up to 4900 RPM. They also have a special enclosure which allows them to bolt directly to the 0.77" hole pattern. Next up are the standard gearmotors. These are a cost-effective solution if you need a bit more power than a micro gearmotor. They range from 0.5 RPM to 303 RPM. And lastly, we have the precision gearmotors. These are great for more demanding applications where you need more power. They range from 6 RPM to 90 RPM. The motor mounts category different plates for connecting your motor to your structure.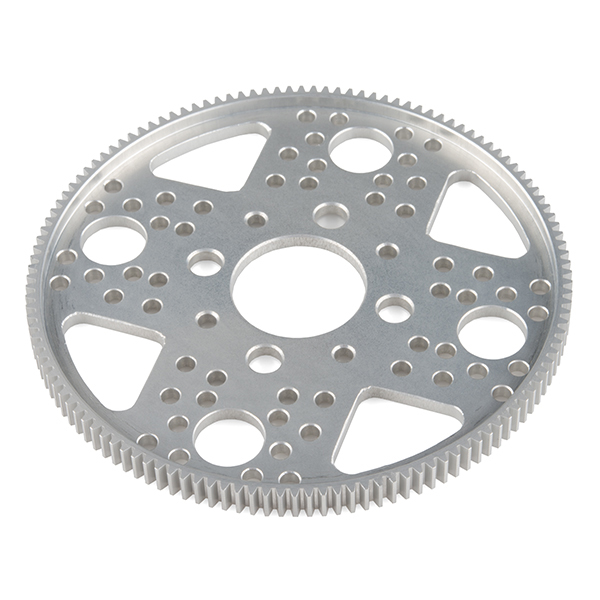 You have a motor, what about getting power to your wheels? We've got you covered. We have gears, pulleys/belts, and even sprockets/chains. And of course they all work with the same hub mounts, so they're easy to attach to shafts and tubing. All the gears have the same tooth pitch, and the sprockets use the same chain, so you don't have to worry about compatibility.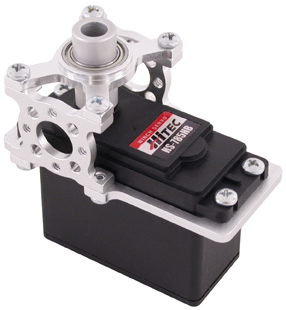 If you want to use servos for control, we have a lot of options here too. If you want a simple solution for adding either a shaft or hub to your existing standard or ¼-scale Hitec servo, check out the ServoBlocks. These come as kits (you provide the servo) and give you multiple mounting options as well as a sturdy ball-bearing-supported output shaft (either smooth or with a hub). If you just need to mount your servo, check out the various servo plates. Of, if you want to use your servo with gears, we have numerous pinion gears that should mate with just about any common servo. You might want to look at the servo mount category for all your servo mounting needs.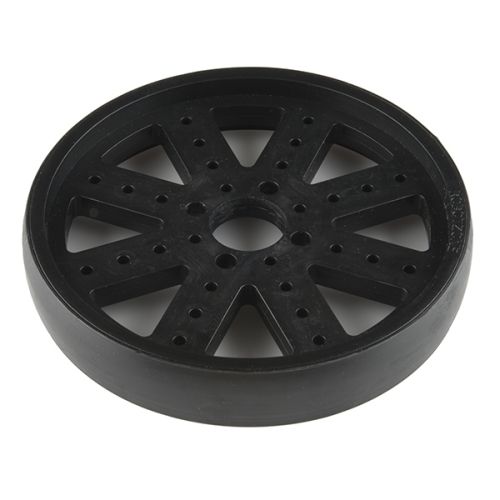 Our new selection of wheels should have something for just about anyone. From the big 6" heavy duty wheel shown above, 4.9" skate wheels, to the various sizes and colors of precision disc wheels, there's a lot to choose from. A clamping hub is the easiest way to connect your wheel to a drive-shaft. They come in various sizes for different shaft diameters.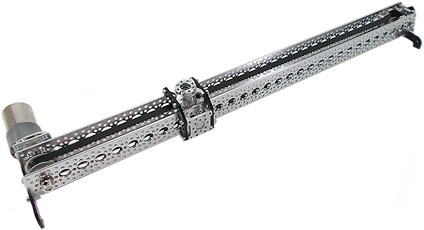 Need linear motion? We have a few options for connecting plastic sliders to the aluminum channels to make simple linear sliders. You can also look at the Dolly Wheel Plates which allow you to use skate wheels and 1" tubing to create your own motorized (or un-motorized) sliding dolly. The idler plate just glides along a rail, while the drive plate allows you to use a motor for precise speed control.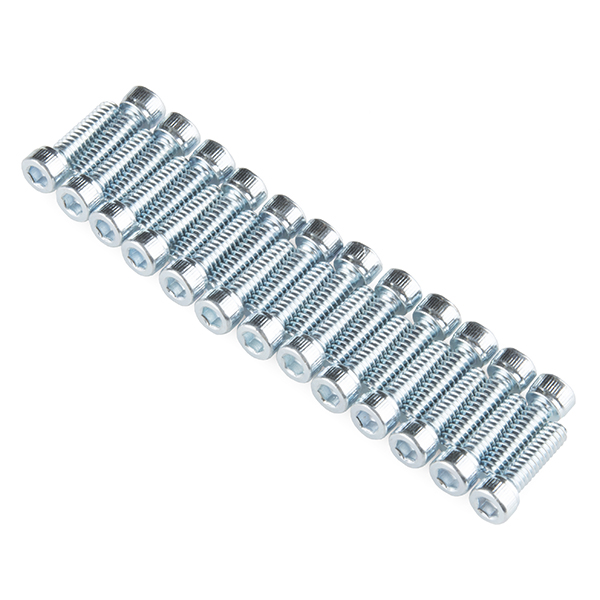 What good would all of this be without the proper fasteners? All Acotobotics products use standard 6-32 screws, so we have screws in 25 packs in various lengths. Also, be sure to pick up a ball-end hex wrench, it will make putting everything together easier. In addition, we also have several new 6-32 threaded aluminum standoffs as well.
Wow, that was a lot! That's all we have for this week. Next week we have some really great stuff so be sure to check back then for even more new products. Thanks for reading, watching, and we'll see you again next week. Also, next week will be the second Robotics 101 video, Angular Motion. See you then!